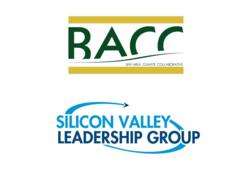 "These five organizations are blazing trails, demonstrating critical leadership that will advance EV adoption for stronger local economies, improved public health and safeguarding of our natural resources from climate disruption." --Rafael Reyes, BACC
Palo Alto, CA (PRWEB) August 23, 2012
The Bay Area Climate Collaborative (BACC) and Silicon Valley Leadership Group today announced the winners of the 2012 Ready, Set, Charge! Bay Area Electric Vehicle (EV) Readiness Awards at the Charged 2012 EV Symposium Silicon Valley taking place at SAP in Palo Alto, California.
Awards were presented in three categories to the following recipients:

Most EV-Ready Business - Google (SAP, runner-up)
Most EV-Ready Communities - Sonoma County and the City of San Francisco
Most EV-Ready Housing Development - Parkmerced Apartments
Award nominees were evaluated by a committee of EV experts on multiple criteria including number of installed and proposed charging stations, adopted policies and ordinances in support of EV charging stations, ease of permitting for EV charging stations, and outreach and education to catalyze the EV market.
Winners were recognized for their work accelerating widespread EV adoption in the Bay Area. Google provides employees access to over 50 plug-in EVs through GFleet, Google's car-sharing program. Additionally, Google has installed 240 Level 2 charging stations and 160 Level 1 charging stations at their Bay Area offices. Sonoma County was distinguished by its work both within and outside of its county lines, particularly for developing materials and reaching out to other counties and cities to promote EV readiness. City of San Francisco was recognized for their work to streamline the charging station permitting process, incorporate and enforce EV-friendly policies, and install numerous public chargers in accessible locations throughout the city. In the small but growing EV-Ready Housing Development category, Parkmerced Apartments was acknowledged as a pioneer for installing charging stations and putting in place EV-friendly policies, which is especially noteworthy as upgrades to an existing housing development can be challenging. The committee also awarded SAP as a clear runner-up for its employee EV leasing program, EV incentives, executive engagement in EV strategy, and EV ecosystem products.
"In recognizing the efforts of key Bay Area leaders to catalyze the EV market, we are highlighting our region's commitment to reducing our dependence on petroleum, improving community health and reducing greenhouse gas emissions" said Carl Guardino, CEO of the Silicon Valley Leadership Group. "We commend these communities, businesses and developments for their exemplary work."
"Reaching the Bay Area's goal of 100,000 vehicles by 2020 will yield up to $200 million in fuel savings annually and over 300,000 metric tons of avoided greenhouse gas pollution," said Rafael Reyes, Executive Director of the Bay Area Climate Collaborative. "These five organizations are blazing trails, demonstrating critical leadership that will advance EV adoption for stronger local economies, improved public health and safeguarding of our natural resources from climate disruption."
The Ready, Set, Charge! Bay Area EV Readiness Awards evaluation committee included the following EV experts:

Richard Battersby (UC-Davis, East Bay Clean Cities)
John Boesel (CALSTART)
Don Bray (AltaTerra Research)
Mike Calise (Schneider Electric)
Jim Helmer (SWARCO)
Ulric Kwan (PG&E)
David Peterson (Nissan USA)
Karen Schkolnick (BAAQMD)
Jason Smith (ECOtality)
For more information about the awards, visit http://www.chargedsv.org/ev-readiness-awards.
About the Bay Area Climate Collaborative
The Bay Area Climate Collaborative (BACC) is a public-private initiative accelerating the clean energy economy. Major partners include Bank of America, Pacific Gas & Electric, Environmental Defense Fund and local governments representing over 70 percent of the Bay Area population. The BACC is driving electric vehicle, energy efficiency, residential upgrades and distributed renewables innovation. For more information on the BACC, please visit: http://www.baclimate.org.
About the Silicon Valley Leadership Group
The Silicon Valley Leadership Group, founded in 1978 by David Packard of Hewlett-Packard, represents more than 335 of Silicon Valley's most respected employers on issues, programs and campaigns that affect the economic health and quality of life in Silicon Valley, including energy, transportation, education, housing, health care, tax policies, economic vitality and the environment. Leadership Group members collectively provide nearly one of every three private sector jobs in Silicon Valley. For more information on the Leadership Group, please visit: http://svlg.org/.
###