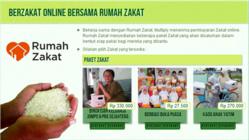 Multiply.com is presently the largest online market with 90,000 sellers and 7 million unique monthly visitors.
(PRWEB) August 23, 2012
Online shopping destination Multiply has partnered with charity foundation Rumah Zakat to establish a number of social programs for its Indonesian shoppers. During the Moslem's Holy Season of Ramadan, Rumah Zakat, with the support of Multiply has released a number of programs which enables online shoppers to contribute to the well-being and benefit of the less fortunate. Amongst the donation programs offered via Rumah Zakat's online store on Multiply are the alms package as part of Ramadan activities, a special package for less fortunate families filled with food products and clothes, gift package for orphans (where they get clothes, snacks and milk) and also iftar (evening meal) package for those who fast.
Many Moslems believe that feeding and caring for someone, most especially during the Holy Month of Ramadan, are rewarding activities. Through Rumah Zakat's partnership with Multiply, the activities may be done online to match the people's presently fast-paced life. During the Ramadan season, Indonesian shoppers not only spend for themselves, but also allocate a certain amount to charities that they support.
Aside from this partnership with charity foundation Rumah Zakat, during the Ramadan season, Multiply Indonesia has also released a special page dedicated to Ramadan activities and related products, ramadhan.multiply.com. The aforementioned programs released by Rumah Zakat can also be found via the special page.
In Indonesia, Multiply.com is presently the largest online market with 90,000 sellers and 7 million unique monthly visitors. Multiply offers products from categories such as fashion, beauty and health, baby & toddler, gadget, computer and many more. Having operated for a year and a half, the Indonesian office is the company's largest operational unit. The Multiply team in Indonesia has been actively participating in educating the market on e-commerce and supporting the sellers' community. Offering comprehensive online shopping features which enables social interaction between buyers and sellers, the Multiply platform also accommodates the way Indonesians transact by implementing payment methods ranging from bank ATM, e-banking, mobile payment and credit cards. Multiply also offers buyer protection which eliminates the worry of shopping online, even for first time users. Presently, Multiply, Inc. is under the leadership of CEO Stefan Magdalinski. As Country Manager of its Indonesian office is Daniel Tumiwa.
For Media Inquiries, please contact:
Nirmala R. Hapsari
Media Relations & PR Manager
Multiply Indonesia
+62 21 29303558
nirmala[at]multiply[dot]com