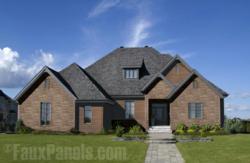 Easy installation and great texture make it a winner
Deer Park, NY (PRWEB) August 28, 2012
Faux Panels is expanding its line of manufactured stone siding panels by introducing Novi Random Rock Plus. Now home owners, contractors and designers have even more design options.
"Our regular Novi line is very popular and with nine colors, it provides a lot of versatility. Now with Random Rock Plus home owners get all of the usual convenience Novi provides with a texture an even more realistic texture," said Steve Barron, president of Faux Panels.
Novi Random Rock Plus is a smart way to give your exterior a facelift. Its interlocking panels are easy to install. DIYers with even a little skill can easily do the project themselves. If a home owner decides to use a contractor, these manufactured stone siding panels install so quickly and easily, labor costs will be much lower than if real stone was used, plus there's no need to hire a stone mason.
Random Rock Plus is made from a durable polymer that actually holds up to wear and tear better than real stone. It won't chip, dust or erode like natural rock will. Unlike vinyl siding, it creates a distinctive look for a home's exterior and with a nearly zero UV degradation so it'll continue to look good for a long time.
Even better, these premium stone siding panels stand up to harsh weather and extreme temperatures. Whether in hot climates like the southwest or the extreme cold of the northern United States, Novi Random Rock Plus will last.
Pests won't be a problem either. Termites and the like have no interest in their durable polypropylene construction. All in all, these manufactured stone siding panels are an attractive and low maintenance option.
Novi Random Rock Plus siding panels are a great choice for your home's exterior. They can even be used indoors depending upon the local building codes in your area.
With three color options, these manufactured stone siding panels will go with a variety of decors. Shadow Gray is a cool neutral. Misty Beige has warmer brown tones. Smoke White is a light neutral that's creates a pretty backdrop for landscaping or furniture.
"Since our clients love Novi, new panel designs that kick things up a level makes perfect sense," said Barron.
Great texture, easy installation and virtually no maintenance makes Novi Random Rock Plus siding panels a winner.
FauxPanels.com is an industry leader due to wealth of installation guides for DIYers and the best selection of the realistic faux brick, stone and wood panels and columns on the market. Its products have been regularly featured on television shows such as "Celebrity Apprentice" and numerous appearances on "Extreme Makeover: Home Edition." FauxPanels.com is a subsidiary of Barron Designs Inc., a family-owned home improvement business operating since 1972. For more information, visit FauxPanels.com.