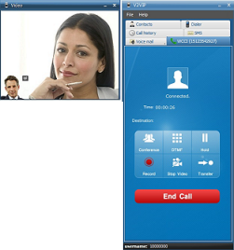 The V2VIP™ softphone complements our iV2VIP™ video softphone which is an app for iPads and iPhones.
Ulster County, N.Y. (PRWEB) August 23, 2012
V2VIP™ is business phone service with high-performance video softphones, IP phones, and a video phone that redefines video calling for small-to-medium size businesses and healthcare agency communications, to beat economic odds. The new V2VIP™ softphone, which downloads to a PC or laptop, utilizes a H.264 video codec to enable in-network video calling over any high-speed or WiFI Internet connection.
Bundled with V2VIP™ service, "it operates affordably and reliably over existing network infrastructures, even firewalled environments," says CEO John Monahan. "Eliminate huge upfront costs and complexities in video telephony. V2VIP™ service is a fully managed voice-and-video solution."
Face to face is best. 60% of communication is visual. V2VIP™ video softphones require as little as 128 Kbps of bandwidth and features a HD video quality setting. Expandable window for video display; Picture-in-Picture, and Contact management options. Send free SMS text messages to other V2VIP™ subscribers anywhere in the world.
Use V2VIP™ service for worldwide extension-to-extension calling; calls to any telephone number in the US or Canada; Auto-Attendant; and an option to keep existing telephone numbers. V2VIP™ Internet phone service, video phones, V2VIP™ video softphone and IP phones are smart affordable investments for single offices, companies and healthcare agencies to upgrade service, while slashing monthly telephone costs.
About Wind Currents Communications, Inc
(WCCI) is an entity established in 2007, by Wind Currents, Inc. which celebrated its 14th anniversary in April 2011, as an Internet Phone Service company specializing in Voice-and-Video-over-IP products and calling plans. "TelePresence is a reality we've been marketing since 1997 and now is the optimum time to leverage the value and benefits of V2VIP™ services and products for your business' video telephony and telecommunications needs," says Monahan. WCCI serves its customers with exceptional quality and cost-effective products bundled with V2VIP™ services for small-to-medium businesses, telemedicine and telehealthcare service delivery, government, and security/monitoring applications.
Call: 877 4BIZ V2VIP (877 424 9828) • info(at)wccivoip(dot)com