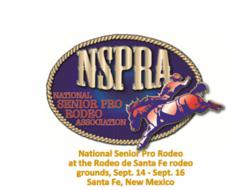 Santa Fe, New Mexico (PRWEB) August 22, 2012
On September 14, 15 & 16 2012, hundreds of National Senior Pro Rodeo contestants will gather at the Rodeo de Santa Fe Rodeo Grounds. Contestants for this event come from all over the western United States, Canada, and the World to compete for prize money and coveted World Championship points. What sets the contestants in this three day event compared to most rodeos apart is age. At a time in life when most folks are settling into a comfortable retirement, these visitors are coming to Santa Fe to ride bulls, bareback and saddle bronc horses, wrestle 800-pound steers, rope calves and team roping steers. The lady contestants come to compete in barrel racing, using favorite horses while navigating around three barrels in a cloverleaf pattern at breakneck speed, running as fast as possible in the ribbon roping competition. The event is featured on Hutton Broadcasting radio stations. Hutton Broadcasting is the parent company of SantaFe.com.
The event people all come to Santa Fe, New Mexico, for is the Big National Senior Pro Rodeo. Contestants cannot enter if the minimum age requirement is not met. Members range from 40-75 years of age. The winners can usually turn in scores or times that would make the competitors half that age on the PRCA circuit a pretty good check. Contestants do not enter just to play. With a World Championship at the end of the year on the line, competitors in this event and the entire National Senior Pro Rodeo circuit come to win.
The National Senior Pro Rodeo circuit starts in Arizona in January, and then moves through the western states moving north as the weather warms. About 1,000 rodeo professionals belong to the association. Competitors travel to over 70 rodeos a year, working towards a coveted spot at the Senior National Finals Rodeo (SNFR) to be held in Las Vegas, NV.
Tickets are $5 for adults and $2 for children.
Further information may be obtained by calling Tim George at 505-321-5775 or Melissa Pessarra at 505-690-9805.
About SantaFe.com
SantaFe.com provides locals and visitors to Santa Fe alike the most current interactive platform for events, music, arts, business, dining and lifestyle. SantaFe.com is a division of Hutton Broadcasting, located at 2502 C. Camino Entrada, Santa Fe, NM 87507
Contact Information:
Scott Hutton
SantaFe.com / Hutton Broadcasting
http://www.santafe.com
(505) 471-1067 (Media inquiries only, please)