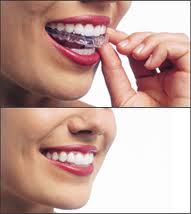 Los Angeles, CA (PRWEB) August 24, 2012
Perfectly aligned teeth don't just look great and increase self-confidence, they also help people maintain health and well being, says Los Angeles cosmetic dentist Kaveh Kanani, DDS. Dr. Kanani points out new information that suggests that misaligned or crowded teeth can make it increasingly difficult to remove the bacteria, and it could lead to periodontal disease.
As part of his cosmetic dentist practice in preventative, restorative and cosmetic dental work, Dr. Kanani offers Los Angeles Invisalign treatments. In contrast to braces, this technique utilizes smooth, comfortable and practically invisible aligner trays to straighten teeth, ultimately making it simpler to get to bacteria while brushing and flossing.
Dr. Kanani, Los Angeles Cosmetic Dentist believes many individuals avoid taking care of crooked teeth because they're concerned about the discomfort and look of metal braces, and that's why he offers Invisalign. Invisalign straightens teeth by using a series of clear, custom-made, removable aligners, which are developed at a lab using advanced computer technology.
Each set of aligners is worn for about fourteen days, and can be taken off to eat, drink, brush and floss. As each aligner is replaced with the next in the series, the patient's teeth move-little by little, week by week-until they have straightened to their prescribed positions. Patients return to the Los Angeles cosmetic dental office about every 6 weeks to ensure that the treatment is on track.
Total treatment time averages 9 to 15 months, and the average number of aligners worn during treatment is between 18 and 20.
To learn more about Invisalign or any of Kaveh Kanani, DDS's other products and services, please call 818-962-1141 or visit woodlandhillsdentalspa.com
"Our courteous and trusted staff are known for providing exceptional dental care with the highest level of comfort," Dr. Kanani said.
For more information or to get expert advice contact Dr. Kevah Kanani at 818-999-4445 , view him on the Web at http://www.woodlandhillsdentalspa.com or visit his office at 22030 Clarendon St # 102 Woodland Hills, CA 91367.
About World Renowned Los Angeles Cosmetic Dentist Dr. Kaveh Kanani
Dr. Kaveh Kanani graduated from California State University, Northridge with bachelor's degree in Biology. He received his Doctorate in Dental Surgery from New York University and completed his residency in Hospital Dentistry in Woodhall Hospital in Brooklyn New York. Dr. Kanani received his certification from the American Academy of Implant Dentistry and completed series of Maxi courses in School of Dentistry, Medical College of Georgia in 2003, IMTEC 2002, Misch Courses 2004, school of CA Dentistry and ICOI. Dr. Kanani stays current with the latest dental technology by attending seminars all over United States. Dr. Kanani has been an associate in Dental Health Institute of West Los Angeles, Southern California Family Dentistry, and South Bay Dental in Gardena for over 4 years prior to opening his own practice in 2001. He is an Associate Fellow for International Congress of Oral Implantologists and AAID. He is also a member of IADA and Woodland Hills Chamber of Commerce.
Contact Dr. Kanani at 818-999-4445 and mention Smile101 and take advantage of their Specials such as: Dental Implant specials ,$26.99 X-ray and exam and how to get your first regular cleaning complimentary.