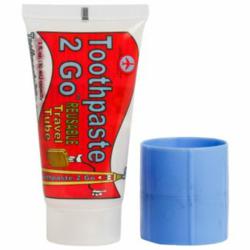 This is a genius product...one of those 'Now why didn't I think of that?' items.
Houston, TX (PRWEB) August 30, 2012
MCM Inventions, Inc. announced today that it has launched Toothpaste 2 Go, a new travelers' toothpaste refill system that will eliminate the need for travelers to ever purchase travel-sized toothpaste again. With this toothpaste refill system, travelers can simply refill an empty travel toothpaste container from the regular-sized tube of toothpaste they keep at home. Thanks to Toothpaste 2 Go, travelers will save both time and money, while still getting the same convenient travel toothpaste and complying with stringent TSA regulations. Toothpaste 2 Go can be reused over and over again.
"Anyone that buys travel toiletries knows that travel toothpaste gives travelers less product for about the same price," said Melissa Cleaver, co-founder or MCM Inventions, and Toothpaste 2 Go inventor. "In order to comply with the strict TSA carry-on regulations, travelers are essentially forced to spend more money to get less toothpaste. This is absurd of course, and in these tight economic times, every penny counts."
Toothpaste 2 Go is a universal adapter that will fit any standard, regular-sized tube of toothpaste. Travelers simply use the adapter to connect their empty travel container to a regular-sized tube of toothpaste and squeeze – that's all it takes to transfer the contents.
The process is simple, clean and efficient and is perfect for frequent airline travelers, campers, children and even office workers who like to clean their teeth after meals at work. The travel bottle and refill adapter are both reusable and top-rack dishwasher safe, making them very easy to clean. Customers interested in purchasing Toothpaste 2 Go can do so by visiting their online store.
Cleaver, a former 7th grade school teacher who left work when her daughter was born, invented the Toothpaste 2 Go refill system while traveling to a National Science Teacher Association conference. She realized while brushing her teeth on that trip, that she had paid nearly the same price for a travel-sized tube of toothpaste as she normally did for a regular-sized tube. Best of all, since Cleaver herself is a mom, Toothpaste 2 Go has a mother's seal of approval.
About MCM Inventions, Inc.
MCM Inventions, Inc. was founded in 2009 by Melissa Cleaver and her husband, Michael. From design through fulfillment, the company continuously strives to bring truly useful innovations to market with the goal of revolutionizing everyday products that will save customers time and money. For more information visit: http://www.toothpaste2go.com
Media Contact:
Melissa Cleaver
832-235-7141
Melissa(dot)Cleaver(at)Toothpaste2Go(dot)com
http://www.toothpaste2go.com