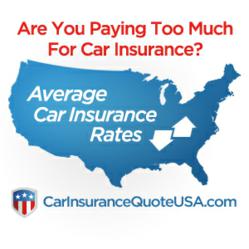 San Francisco, California (PRWEB) August 23, 2012
With car insurance rates on the rise across the United States it's becoming more important to shop around and compare quotes. While much of the car insurance quote has to do with an individuals driving record there are many other factors that are out of their control. Even though the cost of a vehicle may be the same state by state the cost to insure the same vehicle can vary greatly depending on the location of the driver.
The main factors that affect insurance rates by state are:

the percentage of uninsured drivers
crime rate and theft
risk of natural disasters
traffic density
competition between insurance companies
Here are the average monthly insurance rates by state from lowest to highest:
$46.17  North Dakota
$46.25  Iowa
$47.08  South Dakota
$48.58  Idaho
$49.17  Kansas
$50.17  North Carolina
$51.25  Wisconsin
$51.75  Nebraska
$53.25 Wyoming
$53.67  Maine
$54.75  Indiana
$54.92  Tennessee
$55.75  Ohio
$56.50  Alabama
$56.50  Oklahoma
$57.08  Missouri
$57.08  Montana
$57.75  Arkansas
$58.17  Virginia
$58.25  Vermont
$58.83  Utah
$60.58  New Mexico
$61.42  Oregon
$61.92  Illinois
$62.08  Mississippi
$62.50  Kentucky
$62.75  South Carolina
$65.33  Georgia
$65.92  Minnesota
$66.00  New Hampshire
$68.92  Colorado
$70.00  Washington
$70.25  Hawaii
$70.42  California
$70.42  Texas
$70.75  Pennsylvania
$71.42  West Virginia
$77.17  Arizona
$77.58  Michigan
$78.75  Maryland
$80.17  Alaska
$81.92  Nevada
$82.58  Connecticut
$85.67  Delaware
$88.25  Rhode Island
$88.58  Florida
$89.67  Louisiana
$92.75  Massachusetts
$93.50  New York
$98.50  Washington D.C.
$98.67  New Jersey
CarInsuranceQuoteUSA.com is committed to continue educating consumers on auto insurance in America. Their service allows visitors to the site the ability to quickly compare auto insurance rates by simply entering in their zip code or selecting by state. The service is absolutely free and the quotes are no obligation. The top insurance companies in a given area are provided to help consumers find the lowest rates while maintaining quality coverage.
Visit the site today at CarInsuranceQuoteUSA.com