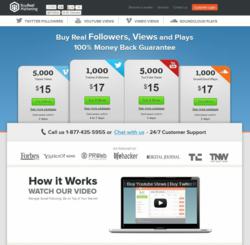 Ottawa, ON (PRWEB) August 23, 2012
Buy Real Marketing, the leading world provider of web 2.0 business applications, shows its support to U.S. President Obama after alleged accusation of fake followers. The internet marketing company that gives struggling businesses and average people opportunity to buy Twitter followers defends Obama after Fast Company published an article about a London-based social management company revealing the lack of authenticity of the President's 18,783,191 twitter following, which were purported to have 41% fake and 29% inactive followers.
The issue on the so-called "Obama fake Twitter followers" being more than what was revealed of Mitt Romney's has Buy Real Marketing, as a provider of Twitter followers, conclude that the public should look more into the story before questioning his reputation.
Since Buy Real Marketing supplies Twitter followers, they are directly obligated to analyze the matter of fake followers and how it is disparaging the credibility of people who have reputations to uphold. In defense to the President, Buy Real Marketing communicates the large possibility of bot-followers provider that automatically selects famous personalities to appear real and would not likely invite suspicion. Moreover the internet marketing company believes the President to be a victim in all this.
Buy Real Marketing offers businesses the chance to gain traction through their roster of social media service packages that include YouTube views, Vimeo views, SoundCloud plays and Twitter followers. The company has been in the social media industry for almost two years and has received recognition and acknowledgment from its clients who now are experiencing prosperous businesses after buying Twitter followers and other social media services.
Buy Real Marketing is the pioneer company that has launched several businesses' social following online and leveraged their marketing potential through social media.
To know more about the company's services, visit their website at http://www.buyrealmarketing.com or contact them at 1-877-435-5955.
About
Buy Real Marketing is owned by Clicking Labs, Inc. Clicking Labs is a well established internet marketing company founded in 2010 by Jean-Patrick Bisson, Diana Quartin and Jonathan Kennedy. The company specializes in driving search marketing and social media traffic, social web app development and conversion optimization. Each product or service specifically helps small/medium website owners increase online visibility and improve online sales.