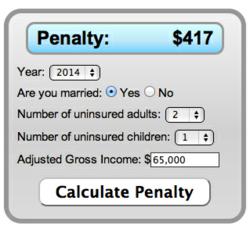 The rumors about a penalty forcing Americans to buy private-sector health insurance have been greatly exaggerated.
(PRWEB) August 23, 2012
When the U.S. Supreme Court upheld the Affordable Care Act's individual mandate in June, the ruling caused many Americans to wonder about the "teeth" in the law – a penalty imposed on those who would ignore the mandate and not purchase health insurance.
Now, Americans can get a reliable estimate of the tax they would pay if they don't enroll in a comprehensive health insurance plan after access to health coverage is expanded in 2014. The Health Insurance Resource Center – a free online guide to information about individual health insurance – has added a health insurance penalty calculator to its consumer information site.
Site founder Charles Smith-Dewey says he was pleased to be able to provide an easy-to-use tool that computes an approximate penalty based on factors such as household income and family size. But he was equally pleased to discover that most Americans won't need to use the calculator.
"We worked with Maggie Mahar, a veteran health policy journalist and former financial reporter for Barron's, to build a tool that takes most of the guesswork out of tax penalties that will be imposed by the ACA," says Smith-Dewey. "The good news is that from all indications, a tiny fraction of the population will even need to use the calculator."
Under the ACA, just 6 percent of the population "will even have to consider the question: 'Should I purchase health insurance or pay a tax?'" writes Mahar, who contributes to healthinsurance.org, and also writes HealthBeat, where she discusses the economics and politics of health care reform. "The rumors about a penalty forcing Americans to buy private-sector health insurance have been greatly exaggerated."
A variety of exemptions from having to pay the penalty – including the fact that the vast majority of Americans will still get coverage from employer-sponsored health plans – will leave about 6 percent of Americans, or 18 million, facing a potential penalty. Of those, approximately 11 million will have incomes low enough that they'll be eligible for the law's premium subsidies, Mahar says, and "Most of those (11 million) folks will be more than happy to take the subsidy and purchase affordable comprehensive coverage."
The remaining 7 million won't qualify for subsidies, Mahar writes, but because many of them will have pre-existing conditions, they'll be able to purchase a comprehensive plan – and many will.
Mahar, who helped develop the calculator for the site, says it will likely relieve some folks' fears about having to pay a penalty. At the same time, she says, she's happy to report that most Americans will have nothing to fear.
Mahar's article includes an explanation of the formula used to create the calculator and also includes answers to frequently asked questions about the tax penalty. Among them: "How does the government collect the tax?" and "What happens if I don't pay the tax?"
Online since 1994, the Health Insurance Resource Center is a consumer guide to information about affordable individual health insurance and medical insurance for families and the self-employed. The site includes news and opinion articles from respected health care writers and health policy experts discussing insurance coverage and the impact of the Affordable Care Act and other health reform legislation. Sections include a high-risk insurance pool guide, guides to state-specific health insurance resources, a special section devoted to state health insurance exchanges, a health insurance glossary, a directory of consumer insurance resources, a collection of Frequently Asked Questions about health insurance, and access to free online health insurance quotes.