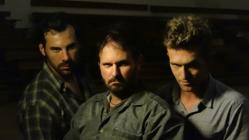 Los Angeles, CA (PRWEB) August 25, 2012
Veteran character actor Larry Laverty is currently at work with Brad Dourif (One Flew Over the CooCoo's Nest) in Minnesota on production of the action-thriller 'The Control Group.' Laverty plays a Special Ops Government Agent tasked with overseeing a covert government experiment conducted by rogue scientist Dr. Broward, played by Dourif. Their sinister tests are supported by two mercenary soldiers played by rising stars Jerry Angelo and Monique Candelari.
Laverty has his work cut out for him as the film is being shot in a derelict mental hospital in rural Minnesota. Built in 1895 and slated for demolition, the asylum is home to hundreds of bats that add to the quirky atmosphere in which the film company is working. To top it off, over 3,200 people died while committed to the facility while it was in operation and many locals claim that the place is haunted and have proof to back it up.
First-time director Peter Hurd, who also developed the film's complex script with writer Logan Gion, is destined for a long and successful career in Hollywood and was wise to cast these veteran actors Laverty, Dourif, and Angelo along with a top notch film crew. While awaiting the completion of 'The Control Group,' Larry Laverty can be seen in an acting tour de force in the soon to be released horror film Joe Hollow's 'Cut.'