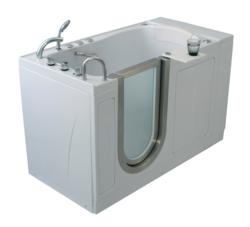 We're excited to raise the level of service that we'll be able to offer our customers with this new expansion.
Denver, CO (PRWEB) August 23, 2012
Aging Safely Walk In Bathtubs is announcing the creation of a 24-Hour Customer Service and Sales Department dedicated to walk in bathtubs. The company is taking this bold step to provide unprecedented support and access for their customers in the United States and Canada for the sales and service of numerous quality walk in tubs.
Aging Safely has proven their commitment to offering high quality products that meet the needs of the unique people that they serve. The company aspires to attain the highest standards of customer service by putting together an entire department dedicated to sales and satisfaction with round the clock access. This 24-hour Customer Service and Sales Department is available to the general public, not just current customers.
Through this department, Aging Safely is hoping to both reward customers with the customer service they deserve and take advantage of a sterling reputation to provide more customers with their excellent products and services.
Aging Safely is a company designed with the customer in mind. For those with limited mobility, a walk in bathtub provides the perfect means of cleanliness and relaxation. Walk in tubs are designed for both safety and comfort, delivering the many healing benefits of water, including potential temporary relief for those suffering from backaches, rheumatism, arthritis, stiff joints and other aches.
Aging Safely is committed to providing the highest quality walk in tubs. With elderly bathtubs that are easy to enter and easy to exit, the worry of slipping is virtually removed. Each walk in bathtub has the option of a cushion which can further assist in reducing pressure on joints and sore spots. Specially placed warm air hydrotherapy jets offer the option of a rejuvenating massage, which for many people can potentially promote blood circulation while removing lactic acid and other toxins from overworked muscles.
With so many options for walk in bathtubs, the search can be overwhelming. Aging Safely has taken out all of the guesswork by launching this brand new, 24-hour Customer Service and Sales Department.
This team of equipped experts can answer any and all questions regarding the purchase and usage of their bathtubs. For those looking to buy as well as those with questions about tubs they have already purchased, this new department is available 24 hours a day, 7 days a week!
Aging Safely is continually taking steps to improve customer satisfaction by providing products and services that their customers actually want and need. They are in the business of the best products, best features, best deals and best services.
Customers, family members of customers, or those considering a tub can call anytime to speak with the highly trained consultants to find out more information about these amazing bathtubs. Members of the friendly Customer Service and Sales Department will diligently search for an affordable option to meet each customer's specific need as well as answer any questions or concerns.
Contact Information:
Zach Wennstedt
Aging Safely Baths & More
P.O. Box 270696
Louisville, Colo. 80027
Toll Free 1-888-779-BATH(2284)
http://www.agingsafelybaths.com