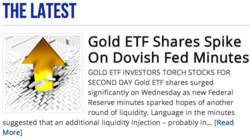 Gold ETF investors have seen a healthy surge in gold ETF performance of late.
Chicago, IL (PRWEB) August 23, 2012
Gold ETF shares surged significantly on Wednesday as new Federal Reserve minutes sparked hopes of another round of liquidity according to a new article by GoldETFs.biz. Language in the minutes suggested that an additional liquidity injection - probably in the form of more debt purchases - is likely to be announced at the next Fed meeting in September reports GoldETFs.biz. This dovish Fed tone pushed the largest physical gold fund in the world, the SPDR Gold Trust, up close to 1.5% above its trading levels before the release. Other gold stock focused ETFs like the Market Vectors Gold Miners ETF experienced even larger gains. Meanwhile the S&P 500 finished virtually flat for the day.
The latest article on GoldETFs.biz is titled "Gold ETF Shares Spikes On Dovish Fed Minutes," highlights several recent performance graphs of leading gold and stock funds. These comparisons illustrate a growing trend of gold ETF out performance.
"Gold ETF shares have been more responsive to liquidity hopes," said Christian Magoon Publisher of GoldETFs.biz. "Wednesday's market results keenly illustrate that point. Gold investors should pay close attention to the momentum of this current rally in gold. It may have enough steam behind it to turn into a new bull market for gold."
Currently there are over 20 gold ETF and ETN products listed in the United States. These products contain around $85 billion of investor assets.
About GoldETFs.biz
GoldETFs.biz is a leading investor education site focused on all U.S. listed gold fund and ETN products and the markets they track. It is published by ETF insider Christian Magoon. The site provides a complete gold ETF list, comparison tools and real time insight on gold through Twitter feeds. Besides the site, users can access GoldETFs.biz content on Facebook, YouTube and Google+. Follow @GoldETFsBiz on Twitter or become a fan on Facebook at /GoldETFsBiz.
About Christian Magoon
Christian Magoon is CEO of ETF consulting firm Magoon Capital. PAIR Digital, a division of the firm, publishes ETF related content including GoldETFs.biz. Having launched over 40 ETFs to date, Magoon is an ETF insider and innovator. His vision for GoldETFs.biz was to create a convenient, social and educational source of ETF information on the gold exchange traded fund segment.India fund site, IndiaETFs.com, is a sister property. Christian has been named an "ETF Pioneer" and was recently featured as "One of Five ETF Experts To Follow on Twitter." Follow @ChristianMagoon for regular investment and ETF insight.