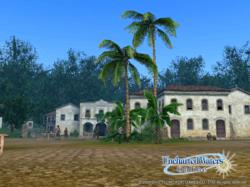 The City of Panama is the final update in the Tierra Americana expansion of Uncharted Waters Online.
SEOUL, SOUTH KOREA (PRWEB) August 23, 2012
CJ E&M (http://www.netmarble.com), today announced that The City of Panama has been added to the next update of its popular seafaring MMORPG, Uncharted Waters Online. Explorers can navigate through the City of Panama to uncover hidden cultures and embark in an all-new adventure to discover never-before-seen territories.
The City of Panama is the final update in the Tierra Americana expansion of Uncharted Waters Online. Following the Great Plains expansion; the update extends exploration beyond the North American territories and heads south to uncover the hidden secrets of the elusive City of Panama.
New Features Include:

SIX NEW SKILLS TO HONE YOUR CRAFT
Six brand new skills will be available to learn. Hone your craft as an investigator, become a trade aficionado with accounts skills, or master the art of plundering, plus much more.
MEMORIAL ALBUM: EXPAND WEALTH AND GET REWARDS
Collect items obtained from fishing, cooking and other trade skills in the Memorial Album. Players can return the contents of the album to an NPC to receive a generous reward.
BRAND NEW QUESTS FOR THE AGES
Calling all merchants and soldiers! New quest lines have been added. Merchants and Soldiers will have new immersive adventures to conquer.
SWIFTLY CROSS THE CONTINENTS
More carriages have been added throughout the game, making travel a breeze as explorers traverse through the uncharted world.
DIVE INTO BATTLE WITHIN MINUTES
Players can enter the Battle Campaign Liner queue and engulf in battle in a fraction of a minute.
Adjustments to character stat requirements have been implemented to make acquiring skills more attainable. Players can now become more efficient in Sniping, Trapping, Throwing and more in less time.
For more information about The City of Panama update and to download and play Uncharted Waters Online for free, visit: http://uwo.netmarble.com/news/getUpdate.asp?seq=1795
About Uncharted Waters Online (UWO)
Uncharted Waters Online is an MMORPG set during Europe's Age of Exploration. Players choose one of six nations to represent as they battle for supremacy on the high seas. Grab your crew and set sail on the high seas in this immersive maritime experience.
Uncharted Waters Online Website
About CJ E&M Game Division and Netmarble
CJ E&M Game Division was established in 2000 as Netmarble; in 2005, Netmarble was acquired by CJ Group, one of the top 20 enterprises in Korea, and merged into CJ E&M, the entertainment and media entity of CJ Group. CJ E&M Game Division has been the leader of the Korean online game industry, providing casual games and online games to over 35 million members through the Netmarble game portal. CJ E&M Game Division also operates a direct gaming platform, Global Netmarble, in English and service Uncharted Waters Online since 2009.
About TECMO KOEI GAMES
TECMO KOEI GAMES is a developer of interactive entertainment software for current generation consoles, handhelds, digital download content, as well as online and mobile games. The company is a wholly owned subsidiary of TECMO KOEI HOLDINGS CO., LTD., headquartered in Yokohama, Japan. TECMO is best known for the Dead or Alive®, Ninja Gaiden®, Tecmo Bowl® and Fatal Frame® series. KOEI is best known for its Dynasty Warriors® and Samurai Warriors® franchises and online titles such as Uncharted Waters™ Online and Nobunaga's Ambition Online®.