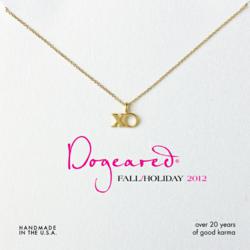 We want our customers to shine this season, so we were inspired to add sparkle to our most popular designs," commented Marcia Maizel-Clarke, Dogeared founder and designer.
Los Angeles, CA –
August 23, 2012 (PRWEB) August 23, 2012 -- Dogeared Jewels & Gifts, a trendsetting fashion brand known for its cool California aesthetic and innovative designs, is proud to present their Fall/Holiday 2012 catalog. Original new jewelry designs along with new twists on Dogeared classics are infused with extra shimmer, just in time for holiday gifting.
The best selling Karma collection has expanded to include Sparkle Karma necklaces. Single and multiple hoops shimmer in gold, sterling, rose gold and charcoal-dipped versions, and range in price from $45 to $112.
"We want our customers to shine this season, so we were inspired to add sparkle to our most popular designs," commented Marcia Maizel-Clarke, Dogeared founder and designer. "Extra shine makes a statement, yet remains uncomplicated, easy to wear, and inspired by our free-spirited California sense of chic."
The Charmed necklace collection offers little charms with big impact. It now features nine charms in black sterling or gold-dipped with a matching bead on a contrasting chain. Some of the options are a little spade, cross, lightning bolt, and skull. MSRP: $62
Six large charms, hand-cast in recycled brass are new to the Charmed collection, including a large pyramid, king snake and long horn. These necklaces come in a Dogeared pouch. Priced from $60 - $72.
The Always Beautiful collections of large earrings have also gotten the sparkle treatment and are offered in six new shapes, including a petal, marquise and Moroccan. In rose gold, gold, sterling and charcoal sterling dip, prices range from $66 to $72.
Keep it Simple, Make a Wish, Three Wishes and It's the Little Things collections all feature new designs for Fall/Holiday 2012.
"Handcrafted and 'Made in the USA' has been the heart and soul of who we are and what we do for over 20 years," continued Maizel-Clarke." By carefully handcrafting every piece in an eco-friendly way, each Dogeared jewel has a story to tell... and being handmade with love is at the core of all of them."
Dogeared, a Certified B Corporation, has increased its commitment to decreasing its environmental footprint. All sterling charms are 100% recycled silver, and catalogs, cards, and packaging are printed on mixed sources. The company works with domestic suppliers and casters who share their environmental commitment, and all the jewelry and gifts are handmade in Dogeared's Southern California studios.
Dogeared Jewels & Gifts
Designer Marcia Maizel-Clarke founded Dogeared Jewels & Gifts just over 20 years ago in Southern California. Originating word jewelry, she began creating beautiful pieces with the purpose of putting positive, peaceful, and loving energy into the world. This energy has always included being kind to the planet, handcrafting all the jewels and gifts in California, and working with non-profit organizations sharing a vision of a better world. Dogeared's unique, custom-cast jewels are regularly featured in fashion, lifestyle, and celebrity publications, in films and on television shows. Trendsetting retailers around the world, including Nordstrom, Neiman Marcus, Bloomingdale's, Fred Segal, and ABC Home, all carry Dogeared. Dogeared is a certified B Corporation. Please visit http://www.dogeared.com for Dogeared's online flagship store. For wholesale information, visit http://www.dogearedwholesale.com.