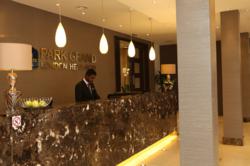 London, United Kingdom (PRWEB UK) 24 August 2012
Easily accessible from the Heathrow Airport, the international gateway of London and well connected with the city through the Heathtrow Expressway, Park Grand Heathrow is the most convenient accommodation option in entire London. Since its summer and London is awaiting a huge rush of vacationers, the hotels are busy and planning special offers and deals to attract guests and snatch business from their competitors. Park Grand London Heathrow has also joined that race and has designed its own platter of special packages and privileges, which will surely add to your delight.
As an esteemed guest of Park Grand London Heathrow, you can enjoy the following benefits:
Park Grand London Heathrow now offers you two varieties of special stay offer to choose from. You may either opt for a 4-nights stay package which is now available at a discount of 20 percent or may opt for another offer that allows discount up to 70 percent. Both are very much economic and availing any of these you can have some extra money in hand to spend for other purposes.
By choosing the 4-nights stay offer, you can enjoy some pampering extras along with superbly comfortable accommodation and other amenities. You can choose accommodation from all the categories available at the hotel. Once you get in, you get entitled for complimentary mineral water, complimentary fruit basket and complimentary broadband internet and Wi-Fi.
Another very exciting offer on stay that you can now avail as a guest of Park Grand London Heathrow is the Advance Purchase offer. Just book a room at the hotel 10 days ahead of the check-in date and save up to 15 percent of accommodation cost.
Complimentary services
Once you confirm your booking and select a stay package, you get entitled for a host of facilities, such as:

Complimentary unlimited internet usage inside your room
Complimentary Wi-Fi in internet access in all public areas inside the hotel compound
Complimentary full English breakfast
However, this offer is valid only for guest who opt for direct booking. To avail the complimentary breakfast, you have to book rooms directly, either through the official website of the hotel or by calling its central reservation desk. For online booking, you need to visit http://www.parkgrandheathrow.co.uk and to call the reservation desk, you need to dial +44 (0) 20 3118 9600.
Don't let the chance of enjoying a luxurious brand new hotel at London which now comes with a host of additional facilities. Park Grand London Heathrow is a perfect accommodation if business is your purpose of making a trip to London. Reaching the hotel from the airport is a matter of minutes, which gives you ample time to reach your destination after checking in. Besides, being located by the London Heathrow Expressway, the special railway route that connects the airport with the Paddington underground railway terminus in Central London, you can reach any corner of London very fast and at ease from the hotel.
So hurry, log on to the net and enter the website of the hotel or call its central reservation desk to confirm your booking. Opt for direct booking to ensure validity of the breakfast service, since it's a great opportunity for you to get introduced to some great culinary delicacies of UK and that too as a complimentary service. If you are leisure traveler, explore the city throughout the day and log on to the net at night to upload images on your favorite social networking site and if you are a business person, keep in touch will colleagues, seniors and subordinates through the internet.