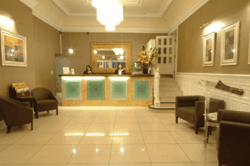 London, United Kingdom (PRWEB UK) 24 August 2012
The London Premier Hotels, the best of all accommodation properties in London are offering the best deals and privileges to ensure grand stays at the Olympic Host city this season. Known for their service excellence, the London Premier Hotels are always the best places to stay in London and since it is the Games season, they are the most convenient too, since all the venues of the events are easily reachable from all the hotels.
Like many other hotels in the City, the London Premier Hotels are currently offering some fabulous offers on stay. Guests can choose from three very exciting offers to save a fair amount of money that could be used in other purposes. By choosing to stay at any of the London Premier Hotels during the Olympic and Paralympic Games, you can choose a package from the following:

Stay 2 nights, get 10% off
Stay 3 nights, get 15% off
Stay 4 nights, get 20% off
You can now enjoy stay at a London Premier Hotel at a discount of 10 percent. Yes, luxurious accommodation at an elegantly appointed guest room and a host of luxurious amenities is now available for you at a price which is 10 percent lesser than what the hotels charge. To avail this exciting discount on charge of accommodation, you just need to book a room at any London Premier Hotel for two consecutive nights. You can enjoy higher rates of interest by extending your stay. If you stay for three nights, you can save 15 percent of your accommodation charge and get 20 percent discount by booking a room for four consecutive nights.
And that's not all. As a privileged customer or guest of a London Premier Hotel you can enjoy a host of additional facilities. All London Premier Hotels are now offering complimentary English breakfast to their guests who do the booking directly by calling up the central reservation desk or by logging on to the official website of the group of hotels. You can call up the central reservation desk for London Premier Hotels by dialing +44 (0) 20 7745 1212 and for doing online booking you can log on to http://www.londonpremierhotels.com. You may also communicate with the London Premier Hotels over mail. For that you need to send an email at info(at)londonpremierhotels.com. You may also write to 27 Devonshire Terrace, Paddington, London W2 3DR, United Kingdom.
Now guests at London Premier Hotels can also enjoy complimentary unlimited Broadband internet service inside their rooms and complimentary Wi-Fi internet access at all public areas inside the compound of the hotels. So stay at London Premier Hotel, catch the live Olympic and Paralympic actions live, capture moments on your camera or camcorder and upload images on your favorite social networking site getting back to your hotel room. Keep in touch with friends and office people through internet from any corner of the hotel by accessing the complimentary Wi-Fi service.
Here is a list of London Premier Hotels where these services and packages are available currently:
Shaftesbury Premier Notting Hill Hyde Park
Kensington Townhouse London
Executive Rooms by Shaftesbury
Paddington Court Rooms
Shaftesbury Hyde Park International
Best Western Shaftesbury Paddington Court London
Shaftesbury Metropolis London Hyde Park
Best Western Shaftesbury Paddington Court Suites
Park Grand London Heathrow
Hyde Park Premier London Paddington
Park Grand London Paddington
The Marble Arch London
London City Suites By Montcalm
Park Grand London Hyde Park