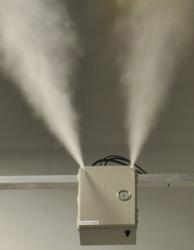 Smart Fog is the only company providing this unique unit on the market today. Our system is completely automated, and includes precise injection of any chemicals into the water spray
Reno, NV (PRWEB) August 24, 2012
Smart Fog has introduced this week the new ES100-2H Commercial Cold Storage Humidifier, which provides a significant increase for the shelf life of produce. The new unit will maintain the exact humidity required without wetting the packing material or produce, which in turn provides complete food and safety disinfection. The two features when combined provide a significant increase in shelf life of the produce, due to less mold, bacteria, and rot. The Smart Fog technology provides a humidification system, which generates 4.2-micron droplets, with equal spacing between the drops that do not attract each other, but oxidize into the air.
The Smart Fog unit is temperature robust and can operate in rooms as low as 28F temperature without any reported issues. The customer can now automatically, with no human hand intervention sanitize the room each time the room is filled. The unique droplets generated by Smart Fog can penetrate inside packed and palletized boxes. The system can be used in a wide variety of applications.
Installation is easy and the units are powerful and compact, as one ES100-2H unit provides 100% coverage of 3000 square feet cold storage space. According to the company no other system comes close to the productive efficiency. Ido Goldstein, director at Smart Fog explains, "The unique combination of humidity and disinfection provides a significant increase in produce shelf life." Goldstein adds, "Smart Fog is the only company providing this unique unit on the market today. Our system is completely automated, and includes precise injection of any chemicals into the water spray." The Company claims to have a unique patent pending technology to inject and distribute the desired chemical or organic material that even penetrates the packing material to ensure that produce remains safe.
Smart Fog will be presenting the ES100-2H Commercial Cold Storage Humidifier at the PMA Fresh Summit International Convention & Exposition in October, and hopes that interested parties stop by the presentation.
To learn more about the new Smart Fog cold storage humidifier solution, please click on this link now:
http://www.smartfog.com/cold-storage.html
About
Smart Fog Inc. is the recognized world leader in the industrial and commercial humidification systems. For over 30 years, Smart Fog has provided superior service to customers, and a commitment to excellence that has earned them the reputation as the best in their industry.