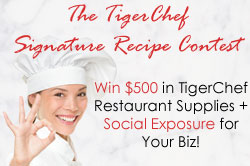 TigerChef has designed yet another exciting recipe contest catering to culinary professionals and students.
Suffern, NY (PRWEB) August 27, 2012
TigerChef, leading online supplier of restaurant equipment and kitchen supplies, is inviting all chefs, restaurateurs, and culinary students to enter their recipes to its Signature Recipe Contest. The contest – which begins on August 27, 2012 and runs for six weeks – is open to anyone who works in the food service industry. The contest is an opportunity for restaurant owners, chefs & other individuals in the culinary field to gain valuable exposure for their business.
Entrants are asked to simply enter their original recipe in the online form provided & upload a picture of their finished masterpiece. They will then be eligible to win:

A $500 coupon toward premium TigerChef restaurant supplies.
Their name, winning recipe, and business headlined in an online press release.
Their name and recipe featured on the TigerChef blog post.
Essential exposure on social media sites such as Facebook, Twitter, LinkedIn, Pinterest, Google+.
Winning recipe showcased on the TigerChef.com contest page.
"Professional chefs work around the clock to create an out-of-this world culinary experience for their customers," says J. Stefans, President of TigerChef. "Many have spent years perfecting their craft, however most chefs are relegated to the kitchen where they remain largely out of sight. To help showcase their talents and bring them the exposure they deserve, TigerChef has designed yet another exciting recipe contest catering to culinary professionals and students."
Restaurateurs and professional chefs value TigerChef as a full-service source for over 200,000 products, including bar supplies. TigerChef takes pride in serving their customers from start to finish. They don't just sell products, such as chef supplies and kitchen equipment; they use their knowledge to help their customers craft their industrial kitchens into ideal workspaces. TigerChef staff serve as consultants regarding the products that they sell and even assist with kitchen design. They work with hotel chains, restaurants, and other commercial facilities. For more information about TigerChef products contact Stacey(at)tigerchef(dot)com or call 877-928.4437.