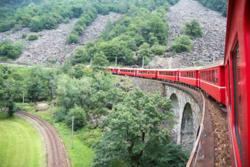 Europe offers such a medley of events, cultures and places to explore
Kent (PRWEB UK) 30 August 2012
As Luggage Superstore now receives more orders and queries regarding luggage to take on long train journeys, the team can agree that these trips are enjoyed by any age group nowadays. InterRail was launched in 1972 and started aiming at ages up to 21 years and as the years progressed the age limit was increased , then in 1998 the age limit was yet again extended but to over 26 year olds giving all ages the freedom to purchase an InterRail ticket .
Europe offers such a medley of events, cultures and places to explore that jumping on the train is maybe the best way to explore the variations and take in the view through your train window right from your seat. With InterRail you arrive right at the heart of the city and therefore access to accommodation is within walking distance.
InterRail journeys have been used even as gifts to friends and family for various special occasions. Some have taken in a cultural Christmas in another country, the discoveries are endless.
Travelling by train has a sense of romance and brings the feeling of fun, freedom, independence and adventure. This is what makes this product appealing to the wide spectrum of customers.
Within its rail network, passengers would find nothing less than 40,000 railway stations to choose from which can offer an experience like no other. For more information, see the link: - http://www.eurailgroup.org/~/media/Secure/Files/Instructions/Instructions%20InterRail/Marketing_Materials_2011/InterRail%20Media%20Kit%202011.ashx
Luggage Superstore established site is in West Kingsdown, Kent. Their aim is providing competitive prices of the highest quality luggage and top calibre Customer Service for online luggage shopping.
Trina Chee-a-kwai
Luggage Superstore
01474 854666
Email information