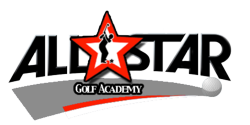 It's not a great shot unless you make the putt
Los Angeles, Ca (PRWEB) August 23, 2012
ABOUT THE ALL STAR ACADEMY.
They provide golfers with free golf tips, tournament information and self-help peak performance golf training. The website is designed to learn the correct fundamentals and have fun playing the game. Today's golf lesson is the Bouncing Ball. It is a golf exercise that is used to developed the hand eye coordination of your hands. A great short game will rely on a great pair of hands.
Bouncing a golf ball on a wedge can break up the monotony of waiting for the next hole to open. While players have been juggling balls off their wedges for a while, the trick became popularized when Tiger Woods filmed a commercial featuring some tricky bounces, culminating in hitting the ball midair. While the final shot is dangerous, anyone can learn the juggling portion of the trick.
INSTRUCTIONS-click this link to see the youtube video
Step 1 Choose a wedge you like. Use a wedge in which the face angle provides a flat surface with the most amount of loft. I like to use the lob wedge or sand wedge.
Step 2 Choke up when gripping the club, usually half way down is good.
Step 3 Place your thumb on to of the shaft
Step 4 Club face is parallel to the ground
Step 5 Put the golf ball on some high grass
Step 6 A quick scoop up and pop it up and start bouncing
Step 7 Try to bounce the ball about 6 -12 inches at a consistent height
Step 8 Blink your eyes and stay focused on hitting the center of the club face
Step 9 Try to 100 in a row. The hard part is doing the first 10 and don't give up.
Doing these exercises will help you with your feel around the greens and your short game in general.
ABOUT THE INSTRUCTOR
Raj Jackson is the Direction of Instruction at the He is committed to grow the game of golf with easy to learn golf instruction videos and articles designed for new and struggling golfers. Raj has helped beginners, weekend warriors, celebrities and pro take their game to the next level. For more golf tips, news and entertainment from Raj Jackson, please go to http://www.allstargolfacademy.com or follow us on facebook.