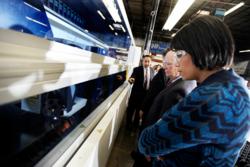 Innovation is central to Marlin Steel...Yesterday we shipped 400 stainless steel baskets made in Baltimore to South America. This is because we are innovative"
Washington D.C. (PRWEB) August 23, 2012
"Innovation is central to Marlin Steel. Over 20% of Marlin Steel's employees are Mechanical Engineers. They come up with elegant solutions to improve production for our medical and industrial clients. We ship to 36 countries. Yesterday, we shipped 400 stainless steel wire baskets made in Baltimore to South America. This is because we are innovative," said Drew Greenblatt, Marlin Steel President. Mr. Greenblatt has been invited to the White House on five occasions, and has appeared more than 30 times on national television on the subject of manufacturing and small-business needs. The success of Marlin Steel in using robotics to drive growth in manufacturing precision-engineered wire baskets and sheet metal products has been cited as a model for innovation by state and national business organizations. U.S. Treasury Secretary Timothy Geithner, the Maryland Congressional delegation and U.S. Trade Representative Ron Kirk are among officials who have toured the plant's operations in recent months.
Todd Park, assistant to President Obama and U.S. Chief Technology Officer, and Steven VanRoekel, U.S. Chief Information Officer, hosted today's presentation of the Innovation Fellows. Jeffrey Zients, acting director of the Office of Management and Budget, and John Berry, director of the U.S. Office of Personnel Management, also were in attendance.
The Innovation Fellows will pursue solutions to five conceptual projects to spur efficiency or job creation: MyGov, a more citizen-friendly government website; Open Data Initiatives to better leverage government data for commercial innovation; Blue Button for America to help individuals access their own health records to improve care; RFP-EZ, to help small high-growth businesses identify federal government opportunities; and the so-called 20% Initiative, to enable U.S. government programs to seamlessly move from cash to electronic payments for programs that support foreign policy, development assistance and others.
Marlin was established in 1968 and has grown revenue and profit six years in a row. 2012 INC 5000 fastest growing companies in the USA winner (#4,112 overall and #216 in manufacturing) Marlin Steel is hiring. Drew Greenblatt served as president of the Wire Fabricators Association, the trade association for the industry, on the executive board of the National Association of Manufacturers and is the chairman of the Regional Manufacturing Institute.