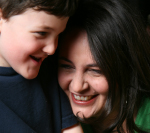 If you think your child's just being cranky, my bet is that he is actually trying to manage a boat load of feelings around going back-to-school.
New York, NY (PRWEB) August 24, 2012
Noted Parenting Expert, Christine Agro, shares her unique "Kids Are People Too" philosophy on back-to-school. She offers parents insight into what kids might be feeling and experiencing as well as tips and tools to help support kids as we move out of the relaxed laid-back nature of summer, and into the schedule laden structure of back-to-school.
'When it comes to this time of year, if you think your child's just being cranky, my bet is that he is actually trying to manage a boat load of feelings around going back-to-school,' says Christine, founder of The Conscious Mom's Guide and author of the blog Life As A Conscious Mom. 'Parents, at no fault of their own, oftentimes miss the fact that worry, fear and anxiety surface as changes in behavior such as anger, hyper sensitivity, and an inability to sleep'
Christine has contributed several back-to-school content pieces for Beliefnet, a multi-faith based site which sees more than 4 Million unique visitors a month, and she has written several other back-to-school pieces for her own blog, which is also housed at Beliefnet. Christine covers everything from preventing head lice naturally, to recognizing and dealing with your child's anxiety and stress, to getting your child to talk about their day, to even offering tips and advice to help parents be the best school parent they can be.
'I think it's important to not only have insight, but to also find ways to help our children understand and put words to what they are experiencing,' says Christine. 'I'm big on offering tools that give kids the power to manage their own emotions and energies.'
In one of her most recent posts, TUESDAYS NATURALLY: Tools To Help Your Child Manage Energy, Christine explores both the emotions and energies that kids contend with; from anger and fear to hyper-activity and frustration. She concludes by offering four simple energy tools that children can use whenever they need.
"In my experience, kids realize quickly how these tools help them. My son Caidin, who is now eight, uses them on his own all the time now." says Christine. "One of Caidin's teachers once said to me, 'when he gets overwhelmed, I notice that he closes his eyes and then exhales and then he seems to be better.' He's using a simple tool that lets him release the energy that makes him uncomfortable. To me, that's the incredible power of introducing tools to kids!"
For parents Christine points out that they can find themselves back into high school behavior, worrying about what other parents think and getting dragged into gossip,she offers five tips to help keep you in present time in her article Don't Let Back-To-School Take You Back To School. Even worse, parents can get a little crazy and Christine offers some basic guidelines for being a good school parent.
In her article,6 Ways to Be a Good Back-to-School Parent, among the tips offered Christine suggests starting off positive, don't project and do a 1,2,3,4 check before you charge in like a mama bear to addresses issues.
If you haven't begun to prepare for back-to-school, Christine offers four tips to help make back-to-school a little smoother. Start to reset bedtime a few weeks before school starts. A sleep deprived child will only add to stress and anxiety. Review (or set) back-to-school schedules. "Everything my son Caidin needs for the next day is set out the night before. If it's lesson day for example, he has to pack up his guitar and set it by the door before he goes to bed," says Christine. "This avoids panic energy in the morning, which never sets the day off on the right foot." To read the rest visit How To Make A Smooth Back-To-School Transition.
###
Christine Agro has been quoted in numerous on-line and print magazines, writes the daily Beliefnet blog Life As A Conscious Mom and is author of 50 Ways to Live Life Consciously and The Conscious Living Guide Wisdom Decks (Standard and Special Moms' Edition). She is the founder of The Conscious Mom's Guide, a free on-line membership community designed to support conscious parenting.
Christine is available for interviews, expert quotes and commentary on pregnancy, parenting, and childhood concerns such as back-to-school and internet use, for television and radio and she can be scheduled for workshops and speaking engagements.
Christine lives in Arlington, NY which is 90 minutes from both New York City and Albany, NY.
Her dedication to inspiring conscious parenting has been amplified by her experiences with her own conscious son, Caidin, who is now eight.
Contact Christine at christine(at)theconsciousmomsguide(dot)net
For Media inquires only: email or 347-273-2962
For Appointments: email only to christine(at)theconsciousmomsguide(dot)net
Join Christine on Facebook at http://www.facebook.com/theconsciousmomsguide
Follow Christine on Twitter at http://www.twitter.com/TheConsciousMom