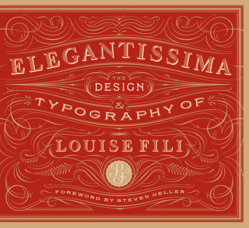 Elegantissima is the story of someone falling in love with design and then making it her life's work
(PRWEB) August 24, 2012
Soon to be released amid much fanfare into the graphic design world is "Elegantissima: The Design and Typography of Louise Fili." The book centers on the career of Louise Fili and according to its description on Amazon.com, is a "must-have for graphic design students and professionals, as well as anyone interested in advertising, food, restaurants, Italy, and books."
Fili has been wooing graphic designers for some 40 years now. Her roots were as a book designer (she designed nearly 2,000 jackets for Pantheon Books), but she branched out into fields like food packaging, restaurant identity, and branding. She's worked with brand name companies like Sarabeth's, Bella Cucina, Jean-Georges, and Good Housekeeping and now brings a unique story to GraphicDesign.com in an exclusive interview with Evan Johnston.
Johnston described "Elegantissima" as "the story of someone falling in love with design and then making it her life's work." The book's publication date is September 5 and the hardcover version from Princeton Architectural Press weighs in at 256 fun-filled pages.
Fili's anecdotes are many and include working with Herb Lubalin and having advice for designers about when to get tough with their clients that is akin to an episode of AMC's "Mad Men."
With her husband, Steven Heller, the couple has penned several books together. Heller authors a widely read blog called The Daily Heller and writes the Visuals column for The New York Times Book Review. He's also a frequent contributor to Print magazine. Louise Fili was inducted in the Art Directors Hall of Fame in 2004, her studio most recently designed the "Love" Forever Stamp for the United States Postal Service. The interview will feature some of her most iconic work.
In other news from GraphicDesign.com, a recent poll revealed that "Presenting your work thoughtfully" was the most important "best practice" for a graphic designer's online portfolio. Sixty-nine percent of respondents selected that option, while "Showing completed projects" was the second most popular response at just 15%. The results stem from an article on portfolio design from the mind of Dave Gorum, creative director of Carbonmade.
In the same article, three-quarters of respondents selected "5 to 20" when asked, "How many projects do you have in your portfolio?" Fourteen percent said they had fewer than five projects in their design portfolio, while the remaining 12% said "20 to 50."
Finally, when asked how often they update their portfolio, just over three in 10 respondents, or 31%, said, "Whenever I have a new project." Nearly the same number of GraphicDesign.com readers – 29% - picked "Not often enough," while 22% said, "Whenever I'm looking for a new job." Rounding out the voting was "Occasionally," which received a scant 18%. The poll article can be viewed HERE.
Visit GraphicDesign.com for more headlines from the graphic design community and be sure to spread the word about the upcoming sit-down interview with Fili which is due to go live on GraphicDesign.com on August 27th.
About GraphicDesign.com:
GraphicDesign.com is a leading source of news and information devoted entirely to the graphic design industry. Employers, students, and freelancers come to GraphicDesign.com to read and discuss current news, information, events as well as to find graphic design firms and to post or search for graphic design jobs.
Contact:
Julia Wild
Terran Marketing
julia(at)graphicdesign(dot)com