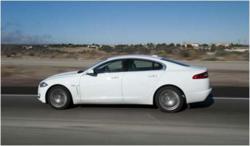 (PRWEB UK) 24 August 2012
Jaguar is the cat that's got the cream, thanks to owners and drivers.
Jaguar has come top in the 2012 JD Power Dealer Satisfaction Survey.
Second in the survey is Lexus, with Toyota third, Mercedes-Benz fourth and Honda fifth.
The bottom of the table makes unhappy reading for Chevrolet and Fiat dealers, followed by Mazda, Vauxhall, Suzuki and Mini.
Out of the 17,686 respondents, nearly 15,000 customers had a service experience with their dealership within the past 12 months. These customers gave data on vehicles bought between January 2009 and December 2010.
Ranking Dealer network Score Rating
1 Jaguar 86.1% ✫✫✫✫✫
2 Lexus 83.6% ✫✫✫✫
3 Toyota 82.4% ✫✫✫✫
4 Mercedes-Benz 82.2% ✫✫✫✫
5 Honda 81.9% ✫✫✫✫
6 Skoda 80.9% ✫✫✫✫
7 Land Rover 80.0% ✫✫✫✫
8 Nissan 79.9% ✫✫✫
9 Volvo 79.5% ✫✫✫
10 Audi 79.0% ✫✫✫
11= Kia 78.9% ✫✫✫
11= Peugeot 78.9% ✫✫✫
13 Volkswagen 78.7% ✫✫✫
Industry average
14 Mitsubishi 78.3% ✫✫✫
15 Seat 78.0% ✫✫✫
16= BMW 77.8% ✫✫✫
16= Renault 77.8% ✫✫✫
18 Hyundai 77.6% ✫✫✫
19 Citroën 77.4% ✫✫✫
20= Alfa Romeo 77.3% ✫✫✫
20= Ford 77.3% ✫✫✫
22 Mini 77.2% ✫✫✫
23= Suzuki 77.1% ✫✫✫
23= Vauxhall 77.1% ✫✫✫
25 Mazda 76.9% ✫✫✫
26 Fiat 74.8% ✫✫
27 Chevrolet 71.5% ✫✫
What it means:
✫✫✫✫✫ Among the best
✫✫✫✫ Better than most
✫✫✫ Doesn't really stand out
✫✫ The rest
Keep up to date with the latest business car leasing news and business car news with BCM