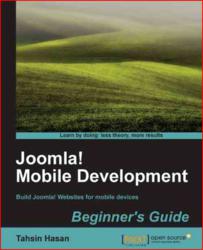 Birmingham, UK (PRWEB) August 26, 2012
Packt is pleased to announce the release of Joomla! Mobile Development Beginner's Guide book, a new book and eBook for web designers to build on the skills and knowledge of maintaining websites for mobile devices without the knowledge of HTML and CSS. Written by Tahsin Hasan, this practical guide is designed to manage and create a feature-rich site with easy navigation by help of step-by-step tutorials and screenshots.
Joomla is one of the world's most popular open source Content Management Systems. With millions of websites running on Joomla, the software is used by individuals, small & medium-sized businesses, and large organizations worldwide to easily create & build a variety of websites & web-enabled applications.
Joomla! Mobile Development Beginner's Guide teaches beginners to create, manage and customize professional, feature-rich and extendable websites easily for mobile visitors. This book will help the readers to organize site content in different tabs, articles, and slideshows and improve its search capability with AJAX searching. It will also provide the instructions of making the use of templates that will make the site look just right, tweak the CSS, and customize templates using own logo, fonts, and colors.
The book allows to extend Joomla!'s capabilities that finds and utilizes must-have extensions that perfectly meets the needs of readers. Additional advantages like creating and specifying mobile stylesheets for Joomla! website to style it more effectively for mobile users and modifying extension functionality to suit their needs by planning and implementing advanced configurations for modules are also covered with easy-to-follow techniques.
This book includes Joomla!'s many powerful features and is perfect for web designers and beginners, who would want to build and maintain own websites for mobile visitors. The book is out now and available from Packt in print and popular eBook formats. To read more about it and download a sample chapter, please visit the Packt web-page.