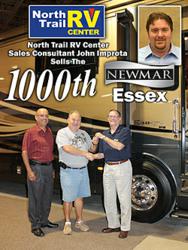 once someone experiences the difference of owning a Newmar, they usually stay with Newmar.
Ft. Myers, FL (PRWEB) August 24, 2012
North Trail RV Center of Ft. Myers and Ft. Lauderdale, FL, South Florida's largest RV dealer and the world's largest Newmar dealer, has once again broken records with Newmar by selling the 1000th Newmar Essex built at its Nappanee, Ind.-based manufacturing complex.
Newmar CEO Richard Parks and Vice President of Sales & Marketing John Sammut handed the keys of the highly customized, 2013 luxury, diesel pusher to one of North Trail RV Center's many repeat guests, Steve Biddle at the Newmar Indiana factory.
Mr. Biddle purchased the coach over the phone from top sales consultant John Improta and this is his second Newmar Essex purchased from North Trail RV Center. "When dealing with extremely busy people like Mr. Biddle that know exactly what they want when it comes to the customized specializations he was looking for, Newmar consistently delivers the highest quality and most professional service.", says Improta. "We were able to do everything over the phone and Mr. Biddle chose to work with North Trail RV Center again even though he has never even been to our dealership because of the high-end service he had received from Newmar and North Trail in the past and that is what keeps him coming back."
"The customizations that Newmar does don't look forced to me." says Improta. "They look right and the overall quality of Newmar along with their 'can-do' attitude makes selling these high-end, luxury motorhomes to discriminating clientele a smooth and satisfying experience for them and for me. Once someone owns a Newmar and actually experiences the difference, they usually stay with Newmar."
Like North Trail RV Center, Newmar Corp. is a family owned and operated business that believes in sound business practices with decades of success that prove they are indeed both industry leaders and all-American success stories.
For more information, please visit http://www.northtrailrv.com or call 1-888-819-9973
About North Trail RV Center
With coast to coast locations, North Trail RV Center is South Florida's largest RV dealer. With over 50 million dollars of inventory in stock, North Trail RV Center features the best RV manufacturers in the country such as Newmar, Tiffin Motorhomes, Fleetwood, American Coach, Heartland RV, Winnebago, Keystone RV, Pleasure Way, Itasca and Jayco. For over 25 years, the locally-owned, family business has grown to employ over 170 people in 3 locations throughout South Florida. With major facility expansion plans for 2013 in Ft. Myers, North Trail RV Center will continue to be South Florida's number one, full-service RV dealer for many years to come .'Like' us on Facebook at http://www.facebook.com/northtrailrv
Media Contact:
Jennifer Sabella
Public Relations
1-888-819-9973
###