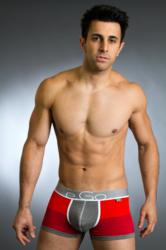 Designer men's brand HOM has launched their latest boxer briefs, briefs, men's thongs and swimwear styles
(PRWEB UK) 25 August 2012
Designer men's brand HOM has launched their latest boxer briefs, briefs, men's thongs and swimwear styles at dedicated men's underwear and swimwear website http://www.deadgoodundies.com.
Fans of the French brand's seasonal collection will be pleased to see styles from HOM's most popular ranges including Temptation, Black Addict and e.Go, which this season features great printed boxer briefs from up and coming student designers.
As always, the famous HOM collection has something for everyone from the cosy and fun cotton jersey Party and Smiley Low Waist Maxis to seriously chic options such as the ombre Palazzo and translucent striped Champaign Thongs.
Left handers and right handers alike can enjoy HOM's patented HO1 horizontal opening, featured on styles such as the nautical Mariniere September and paisley patterned Cachemire October ranges.
For those wishing to indulge their darker side, this season's Black Addict designs are the collection's best yet with ripped denim style prints, velour patterns and gothic inspiration.
DGU gave fans an exciting preview of the HOM autumn collection just last month when they premièred an exclusive video featuring two gorgeous models showing off in the new designs at a photoshoot. The video attracted more than 12,000 views in a matter of days on DGU's YouTube Channel, which showcases a great selection of footage from in-house shoots as well as videos direct from the website's top brands.
Company Information
Deadgoodundies is an online only retailer stocking the best in designer men's underwear and swimwear from all over the world including, in alphabetical order, Big Boys, Body Art, Bruno Banani, Bum-Chums, Clever Moda, Doreanse, Ergowear, Gigo, Gregg Homme, HOM, James Tudor, Jockey, Joe Snyder, MaleBasics, MANstore, Mey Bodywear, Mundo Unico, Nils Bohner, Obviously For Men, Olaf Benz, Pikante, PUMA, Sloggi, Solar TanThru and Zoggs. DGU also stock selected loungewear, socks, T-shirts and more from their best selling brands.
DGU are incredibly media friendly and always have high res images on hand for fashion pages and samples for photoshoots as well as expert comment and market insight from partners Adam and Jane.
For more information contact Jane DGU PR on 01743 271615 or email pr(at)deadgoodundies(dot)com.