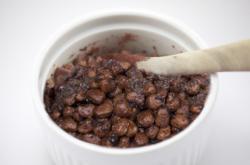 using SuperGravy eliminates the need for adding the canned food, they are paying less than half the price, and also eliminating the waste, mess, and inconvenience of having cases of canned food in their cupboards
Wilton, CT (PRWEB) August 24, 2012
Clear Conscience Pet, LLC, makers of all-natural, healthy treats & supplements for dogs and cats, is proud to announce that Tim Boyd of Wisconsin and his dog Toast, have won the grand prize in their first Facebook photo contest. Tim will receive a 6-month supply of SuperGravy, a natural dog food & cat food gravy enhancer. 6 other winners will also receive a free supply of the unique instant gravy mix from the award-winning company. The winning photos can be seen on our Facebook page.
Founded in 2010, Clear Conscience Pet has built a strong following among pet lovers who want healthy, fun, and tasty treats for their pets but whom also care about how and where ingredients are sourced. The company emphasizes sustainable sourcing for their products by purchasing from humane audited family farms committed to environmentally sustainable practices.
SuperGravy dramatically and naturally increases interest in food while adding essential nutrients to the diet. The "Super" in SuperGravy comes from superfoods like organic spinach, carrots, and pumpkin. The recipe also contains chia seed for immune-boosting and coat conditioning omega 3 fatty acids. Protein, vitamins, and essential amino acids are supplied by naturally-sourced roasted liver and heart for a truly holistic and well-rounded nutritional profile.
Product reviews and buzz rave that SuperGravy is the "secret sauce" that makes the most reluctant eaters into chow hounds and hungry kitties.
A surprising number of pets become poor eaters at some point in their lives. Some causes are health issues such as cancer or other illnesses, older age, or switching to diets prescribed by veterinarians. Emotional distress such as the loss of a companion, changes in living circumstances, and relocation or rescue placement also commonly lead to appetite issues. Many perfectly healthy pets become fussy eaters, probably because they are "spoiled" by their loving guardians.
Huge numbers of consumers use canned food as a "flavor additive" for dry kibble, and while this often works, it adds a substantial amount of calories and fat to the pet diet, which contributes to the growing problem of pet obesity. SuperGravy has only 20 calories and 1 gram of fat per recommended serving. "It's like magic and science combined," said Anthony Bennie, Clear Conscience Pet's Founder and President. "The concentrated ingredients are spread by water molecules and attaching to the kibble throughout a large meal, so it only takes a small amount to totally change a pet's response to their food."
The idea of pet gravies and food toppers isn't new, but past products have been made with as much as 80% water, gelatin thickeners, and synthetic vitamin and mineral supplements. "Our research and development on SuperGravy made it clear that these products were glorified 'pet ketchups,'" said Bennie, "There was a real need out there for a better alternative, and common sense told us that it made no sense to add cost by packaging and shipping water all over the place."
The answer was an instant granular gravy mix, designed to be blended with tap water in the home. After trying hundreds of variations, the company was able to achieve outstanding results and also use much higher quality ingredients than the commercial brands, since the cost savings of less packaging and exponentially fractionally lower shipping weights could now be dedicated to the highest quality natural and organic ingredients.
"An unexpected bonus has been that a large number of our new customers are those who have added canned foods to their dry kibble to get their pets to eat. They have discovered that using SuperGravy eliminates the need for adding the canned food, they are paying less than half the price, and also eliminating the waste, mess, and inconvenience of having cases of canned food in their cupboards," said Anthony Bennie. A new national radio spot and companion YouTube video is just being released to spread the word about SuperGravy.
"We are so grateful for the tremendous support for SuperGravy," said Amanda Bennie, Clear Conscience Pet's Co-Founder. "Some of the stories are truly heartwarming. Helping animals with cancer or other illnesses to regain enthusiasm for their food is our biggest reward in offering this product. If a dog or cat won't eat properly, it doesn't matter what the veterinarian does medically if the pet gets weaker from lack of appetite."
Clear Conscience Pet would like to extend a congratulations to all those that entered, and offer everyone the opportunity to learn more about our products and join our community of fans at our Facebook page.
"This contest was designed to allow our customer family to show off their dogs and cats being active and having some summer fun," said Amanda Bennie. "After all, even though SuperGravy is serious nutrition, having fun with the companions we love is what it's all about."
SuperGravy is available through independent retail stores, veterinarians, and online retailers including Amazon.com as well as at Clear Conscience Pet's web site.
# # #
About Clear Conscience Pet®, LLC
Clear Conscience Pet® is the first pet nutrition company founded with the mission of using humanely sourced meat ingredients from sustainable family farms to make exceptionally healthy treats, chews, and food enhancing gravies. The company's current products include the patent pending OSV™ treat and chew line, SuperGravy®, the first Holistic Instant Dry Gravy Mix and Nutrient Enhancer for pets, and Cruncherz™ Gluten & Grain-Free Bakery Treats. The company is based in Wilton, Connecticut and is family-owned by Founders Anthony Bennie and Amanda Malone Bennie. They currently market their pet food products to pet supply retailers, veterinarians, health food stores, and other pet specialty outlets.
Web address: clearconsciencepet.com
Facebook page: facebook.com/Clear.Conscience.Pet.LLC
Video interviews with Founder, Anthony Bennie: visit: clearconsciencepet.com/ccp-tv