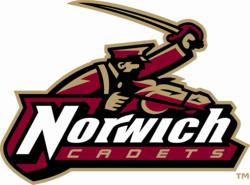 Overall, I'm happy with how preseason has started. I've had some people step up and surprise me.
Northfield, VT (PRWEB) August 23, 2012
The 2012 edition of the Norwich University volleyball team will be one full of changes, as first year head coach Ashlynn Nuckols takes the reins over a traditionally successful program.
The Cadets will search for their sixth-consecutive appearance in the Great Northeast Athletic Conference (GNAC) post-season play in 2012 after posting a 16-10 overall record and an 8-5 record in league play in 2011.
This season's expectations will not be met without challenges, as the Cadets look to rebound from the graduation of Ivana Batur and April Byllaardt who finished their career atop most Norwich program records and led all statistical categories in 2011.
Nuckols does not believe the challenges will hinder her young squad.
"Our number one goal is to make improvements," said Nuckols. "We are changing our style of play."
One change of play the Cadets will make in 2012 is to move senior Gabrielle Miller (Grove City, Ohio) to a more permanent role as the team's setter. Miller led all 2012 returners in points-production after totaling 108 kills and 434 assists last season. Already ranked second in assists in program history after one season on the team, Miller is poised to add more assists to her record this season.
Miller also led the team defensively in 2011 after totaling a team-high 248 digs and averaging a team-best 2.95 digs per game. In addition, Miller finished with the most blocks of all returners, totaling 22 blocks including five solo blocks.
Nuckols will also call on Miller for another role this season. "[Miller] will be a leader both on and off the court for us this season," Nuckols said of her senior. "Captains haven't been announced yet, but it's clear that she is already demonstrating great leadership with the team."
In addition to Miller, the Cadets return seniors MaryRose Meany (Goshen, N.Y.) and Haley Vermes (Westborough, Mass.). Meany, who plays primarily on the right side, totaled 39 kills and eight blocks in 19 match appearances for the Cadets a season ago.
Meany will be called upon to make a defensive impact at the net for Norwich as she looks to improve upon her 70 career blocks.
Vermes, an outside hitter, appeared in 25 matches last season and totaled 49 kills and 81 digs. Vermes will look to be a key contributor at the net this season.
Lone junior Jennette Chartrand (Poestenkill, N.Y.) returns as the team's defensive specialist after a successful sophomore season where she totaled 121 digs and averaged 1.64 digs per game. She will look to make a significant impact on the defensive line for the Cadets this season.
Rounding out the returners are sophomores Corinne Baita (Rochester, N.H.), Kelsey Mancini (Lynnfield, Mass.) and Alex Palmer (South Windsor, Conn.).
Baita totaled 176 digs in her first year with the program and added 52 kills alongside 26 service aces. Mancini, a middle hitter, had a similar rookie season, totaling 55 kills, 135 digs and 24 service aces. Both Baita and Mancini will look to be key contributors to the Cadet lineup this season.
Palmer returns after finishing her rookie season fourth overall on the squad in kills with 77. She also leads all returners in service aces with 33, and finished with 175 digs.
In addition to the seven returners, Nuckols also welcomes two newcomers to the roster this season in Tara Lyons (Pocasset, Mass.) and Veronica Weeks (Troy, N.Y.).
Lyons joins the team after playing four years of volleyball at Bourne High School. In addition, she played club volleyball for the Pilgrim Junior Olympic Volleyball Club and the Mass Patriots.
Weeks comes to the Cadets after a successful high school career at Tamorac High School in Troy, N.Y. where she was a four-year member of the volleyball team.
"[Weeks] has had a busy first few days," said Nuckols on her only NU Corps of Cadets student-athlete this year. "I think she will surprise us all when she gets into the swing of things."
"Overall, I'm happy with how preseason has started. I've had some people step up and surprise me," concluded Nuckols.
The Cadets will open the 2012 season on Sept. 1 at 3:00 p.m. when they travel to Southern Vermont for a non-conference match. The Cadets will open Great Northeast Athletic Conference (GNAC) play at home on Saturday, Sept. 15 at 12:00 p.m. against Albertus Magnus.
Norwich University is a diversified academic institution that educates traditional-age students and adults in a Corps of Cadets and as civilians. Norwich offers a broad selection of traditional and distance-learning programs culminating in Baccalaureate and Graduate Degrees. Founded in 1819 by Captain Alden Partridge of the U.S. Army, Norwich University is the oldest private military college in the United States of America and the birthplace of our nation's Reserve Officers' Training Corps (ROTC). http://www.norwich.edu