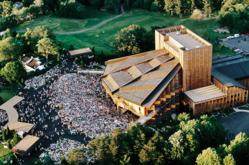 Vienna, Virginia (PRWEB) August 25, 2012
An Acoustic Evening with
Ben Harper
Special Guest:
Rickie Lee Jones
Tuesday, September 4, 2012 at 7:30 pm
$50 in-house, $35 lawn
Ben Harper
Singer/songwriter and activist Ben Harper makes his Wolf Trap debut in a special acoustic solo performance. His signature style combines elements from the blues, folk, soul, reggae, and rock genres with his tender voice and soulful interpretations. Harper's latest album, Give Till It's Gone (2011), is packed with sentimentality and raw emotions presenting a new and more refined musical side to the artist. Widely known for his fusion sound and eclectic collaborations, Harper has captivated audiences around the world since the early '90s. He has appeared in performances alongside numerous renowned acts such as Taj Mahal, Ringo Starr, Dhani Harrison, Jackson Browne, and Jack Johnson, and has recorded 16 albums to date. In 2005 he received two GRAMMY Awards— one for Best Pop Instrumental Performance for the solo track "11th Commandment" and the other for Best Traditional Soul Gospel Album for There Will Be a Light, a collaboration with The Blind Boys of Alabama.
Video: Ben Haper – Waiting On An Angel (Live)
Rickie Lee Jones
After over two decades, Chicago-born singer/songwriter Rickie Lee Jones returns to the Filene Center stage to present one of her trademark live performances. Listed as No. 30 on VH1's 100 Greatest Women of Rock, Jones mixes a variety of musical genres with her distinctive jazz-influenced vocals. She stepped into the music scene in the late '70s and achieved national recognition with her self-titled debut album which peaked at No. 3 on Billboard's 200. Jones received the GRAMMY Award for Best New Artist in 1980, and won a second one 10 years later in the category of Best Jazz Vocal Collaboration for the hit single "Makin' Whoopee," recorded with Dr. John.
Video: Rickie Lee Jones in Stockholm (Live)
Face of America: Spirit of South Florida
Parsons Dance
Tiempo Libre
Saturday, September 8, 2012 at 8 pm
$40 in-house, $15 lawn
Face of America: Spirit of South Florida
Wolf Trap is proud to premiere Face of America: Spirit of South Florida, the seventh installment of its world renowned multimedia artistic adventure series. Created to celebrate our country's natural treasures through the performing arts, Face of America: Spirit of South Florida will explore the unique natural and cultural aspects of Biscayne National Park, Big Cypress National Preserve, Dry Tortugas National Park, and Everglades National Park.
Wolf Trap commissioned renowned choreographer David Parsons to create an original work that will portray the essence of the parks through the rich language of the performing arts. Parsons Dance will perform live on stage to the live music of Miami's Cuban-American timba band Tiempo Libre, and to the recorded music of prominent composer Andrew Bird, taking audiences on an unparalleled artistic adventure through South Florida.
The special evening combines live dance and music, together with HD video of Parsons's dancers filmed on-location in the Parks projected on an enormous HD screen at the 7,000-seat Filene Center at Wolf Trap National Park for the Performing Arts. From the swamps of the Everglades to the aquamarine waters of the Biscayne Bay to the celebration of freedom at Fort Jefferson, audiences will be taken on an artistic journey through the National Parks of South Florida in a "first" for both dancers and the Parks in this multimedia/live performance adventure.
Video: Face of America: Spirit of South Florida Promo
ROCK OF AGES
Sunday, September 9, 2012 at 8 pm
$42 in-house, $25 lawn
ROCK OF AGES
The smash-hit musical ROCK OF AGES takes over the Wolf Trap stage in an evening chock full of rock 'n' roll, comedy, and non-stop fun. Based on the book by Chris D'Arienzo, ROCK OF AGES features classic rock tunes by many famous bands from the '80s, such as Journey, Night Ranger, Styx, Twisted, Poison, Asia, Whitesnake, and many more. The original musical became an instant favorite after its premier in 2005, and has since been presented on Broadway and on tour all over the world. It received five Tony Award nominations and was also recreated in the 2012 film directed by Adam Shankman and starring Tom Cruise, Catherine Zeta-Jones, Russell Brand, and Julianne Hough. The ROCK OF AGES tour is directed by Kristin Hanggi, with choreography by Kelly Devine and orchestrations and arrangements by Ethan Popp.
Video: ROCK OF AGES – 2009 Tony Awards
Tickets can be purchased by calling 1 (877) WOLFTRAP; or online at http://www.wolftrap.org. For more information, call Wolf Trap at (703) 255-1868.
Wolf Trap is metro accessible! Our environmentally friendly Wolf Trap Express Bus travels from the West Falls Church metro stop every 20 minutes starting two hours prior to show time. For more information, please visit,
http://www.wolftrap.org/Plan_Your_Visit/Access_by_Metro.aspx