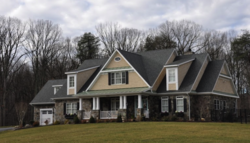 Flex homes offer buyers the opportunity to build a dream home for today and for the future.
Haymarket, VA (PRWEB) August 24, 2012
High Ridge Homes, a second-generation Northern Virginia custom home builder, has found success with executive flex homes, custom and semi-custom homes that offer multiple configurations for buyers through several different life stages.
"We are seeing a trend toward more flexibility with executive custom homes. Buyers want a home that works as well when they have three teenagers at home as it does when they are empty nesters and even as they move into retirement. This means each room must be thoughtfully designed to serve a variety of purposes through several life stages," says Tom Swigart of High Ridge Custom Homes.
The company's most recent projects include a 4,000 square foot Craftsman with flexible craft room, a Cape Cod style home with separate garage ideal for workshop or car collection, and an executive home with a sewing room that can be converted into a second master suite for resale. Swigart sees even more demand for this type of flex home in the future, and believes that the company is well positioned to serve flex buyers.
"As a custom and semi-custom builder for 40 years, we have streamlined our processes to keep construction costs comparable to production homes. With interest rates still at historic lows and a limited number of premium lots currently available, there's no reason that homebuyers today can't have the exact home that they want. Flex homes offer buyers the opportunity to build a dream home for today and for the future," says Swigart.
Swigart says that the secret to building a successful executive flex home is to partner with a builder early in the process, often even before a piece of land is purchased. Swigart encourages buyers to schedule an initial consultation and discuss needs such as boomerang generations, eldercare, lifestyle, hobbies, and future goals.
Swigart also encourages buyers to get as creative as possible when planning a custom home. The company offers a free Custom Home Planner on their website and a searchable database of thousands of custom home design ideas to offer inspiration to buyers. Says Swigart, "Almost anything is possible."
Find out more about executive flex homes. Visit the High Ridge Homes website at http://www.highridgeva.com.
About High Ridge Homes
High Ridge Homes is a Northern Virginia Custom Home Builder that combines 40 years of building experience with the latest technology to create quality homes and exceptional experiences. Specializing in Virginia green homes, High Ridge offers custom home building services including building on-your-lot, land acquisition, and residential community development. For more information visit http://www.highridgeva.com.