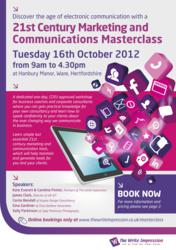 This one-day CCEU approved Masterclass is specifically designed for business coaches and will empower delegates to make changes that will benefit their own business whilst offering tools and solutions for their clients that will undoubtedly add value
(PRWEB UK) 24 August 2012
This can be especially daunting for business coaches and consultants. There is no doubt that there are many more communication options for their own consultancies, bit it is equally important that the advice they are giving their own clients is up-to-date. With this in mind, PR and communications experts The Write Impression have announced a one-day masterclass designed exclusively for UK business coaches in association with the International Coach Federation UK (UK-ICF).
Kate Everett, Partner at The Write Impression explains: 'Communications have changed fundamentally in recent years and indeed months and the questions that businesses have been asking us are usually centred around online communications and social media. The media itself has even been transformed by the digital age and whilst there are many more opportunities to communicate through new mediums the question is usually how? It's not as complicated as it seems, it's all about understanding the process, what you need to do, and how to do it. This one-day CCEU approved Masterclass is specifically designed for business coaches and will empower delegates to make changes that will benefit their own business whilst offering tangible tools and solutions for their clients that will undoubtedly add value.'
In addition to a range of 'can-do' modules on online communications and branding, delegates will also learn how they can take their own coaching consultancies into the 21st century, with webinars and online publishing. Kate says 'We hope we've covered everything; this workshop is about gaining real understanding and delegates will leave with a range of new information and skills, along with a delegate pack including everything they need to be able to put what they have learned into practise and share innovative ideas with their clients.'
The 21st Century Marketing and Communications Masterclass for business coaches and consultants will take place at Hanbury Manor, Ware, Hertfordshire on Tuesday, 16 October, 2012 from 9am to 4.30pm. Spaces are limited and can be booked at an early bird discount rate of £125 + vat (or £100 + vat for members of UK-ICF) until 12 September 2012. Refreshments and lunch are included and profits from the day will be donated to Colchester's St Helena Hospice as part of the Birkett Long £50 Challenge.
Book online at http://www.thewriteimpression.co.uk/masterclass email marie(at)thewriteimpression.co.uk or call 0845 5272 801
Speakers:
James Clark – UK-ICF
Caroline Foster – The Write Impression
Kate Everett – The Write Impression
Carrie Bendall – Inspire Design Consultancy
Gina Gardiner – Gina Gardiner Associates
Sally Parkinson – Sally Parkinson Photography