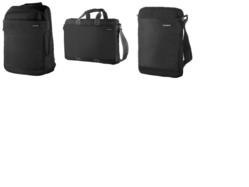 This is definitely value for money.
Kent (PRWEB UK) 31 August 2012
This is the latest super lightweight range designed with a fresh and casual look combined. Most of the Network models come equipped with a Smart Sleeve, which means it can piggy back on your trolley case while on the move. The laptop bags shoulder straps are removable and the soft touch material keeps items all snugly and safe. A great thing about the Netbook Crossover and Netbook bag –it also fits tablets. The bags provide practical pockets for a PDA and a cellphone.
Nick Steadman, Managing Director of Luggage Superstore comments on this business range: - "When the Network was brought to the market, it homed in that this is definitely value for money, and the team is always looking for options that could bring savings to our customers."
Keeping at the top of the know-how in travel luggage, customers can discover top of the range quality with a Samsonite bag. A Samsonite bag dramatically improves travellers' experience without sacrifice in quality.
The Network provides a discrete and practical bag to transport your laptop and from a brand you can trust too.
Luggage Superstore established site is in West Kingsdown, Kent. Their aim is providing competitive prices of the highest quality luggage and top calibre Customer Service for online luggage shopping.
Trina Chee-a-kwai
Luggage Superstore
01474 854666
Email information