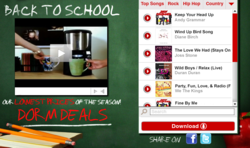 "We have found that with an incentivized music reward engagement rates are three times higher than a standard ad. Additionally, users are also 20 percent more likely to click to find out more about a brand following a music reward."
Redwood City, California (PRWEB) August 23, 2012
August 23, 2012 – Jivox, today announced its partnership with Music Interactive to deliver a new interactive video ad unit called Maestro, which features a video ad with an incentivized music reward. Marrying Jivox's multi-screen interactive video advertising technology with Music Interactive's expansive musical library allows brands to associate with the pop culture of music, while increasing ad engagement and return on investment (ROI).
"While some sites have allowed free listening to music in return for watching an ad, we wanted consumers to be able to download the music of their choice while also creating an interactive experience that keeps them wanting more," said Diaz Nesamoney, founder and CEO of Jivox. "These are the first music incentivized video ads that run on any screen, are highly engaging, and create a more meaningful experience where people feel like they get something in return."
Once the Jivox ad plays for a set duration, viewers will receive a free sponsored MP3 download from the vast Music Interactive library. This includes thousands of songs that play on any device and are neither tethered nor DRM-encoded, leaving consumers with a positive brand experience. The platform also intelligently sorts its vast music library to offer the most popular songs, which will appear at the top, each time the ad loads. The video ad and music reward are both self-contained within the ad unit, which strengthens the time spent with the brand. Music Interactive holds the relationships and music rights for songs listed.
"We have found that with an incentivized music reward engagement rates are three times higher than a standard ad. Additionally, users are also 20 percent more likely to click to find out more about a brand following a music reward," said Trey Shelton, founder and CEO of Music Interactive. "The power of music combined with Jivox's unique interactive capabilities creates an unmatched experience that consumers have come to expect."
The social interaction in the ad unit also allows users to share the ad on Facebook, Twitter or Pinterest.
Using Jivox's sophisticated ad authoring tools and Music Interactive's music download widget, brands can easily customize the Maestro ad unit with skin, interactive features or custom animations. All ads can be built rapidly and delivered at scale via the Jivox interactive video ad server.
The Maestro ad unit is available immediately from Jivox as well as from Music Interactive.
About Jivox
Jivox is the leading multi-screen interactive video advertising technology company. The Jivox platform enables brand advertisers, digital agencies and publishers to deliver highly engaging video ads powered by interactive and social sharing features. Using Jivox creative tools, interactive video ads can be easily authored and served in-stream, in-banner and on mobile devices and tablets. Jivox technology eliminates typical challenges associated with delivering video ads across multiple screens and connected devices, such as HTML5/Flash, operating systems, browsers, video encoding, form factor etc. Jivox also provides sophisticated campaign performance tracking, brand awareness and purchase intent analytics for advertisers via BrandGage -- its proprietary real-time analytics platform. The Jivox platform is used by several hundred media companies and agencies including Bloomberg, Federated Media, Fox News, FUOR Digital, GroupM, Interactive One, Lee Enterprises, OMD, Starcom, Sun Times Media, Videology and Weather Underground. Jivox was recently recognized as a winner of the Interactive Advertising Bureau (IAB) Mobile Rising Stars Awards for its innovation in cross-platform interactive video ads. For examples of Jivox ads see: http://www.jivox.com/demoads.
About Music Interactive
Music Interactive powers brand–sponsored music download rewards, delivered in a rich media display ad format. Consumers are given a free MP3 download of a recent recording by a popular top-tier artist in exchange for interacting with the brand. Consumer–brand interactions include liking the brand's Facebook page, following the brand on Twitter, tweeting about the brand, watching a video ad, and more. Music Interactive launched in 2006 and has offices in Los Angeles and New York. Its clients include Pandora, Shazam, Viacom, Vevo, Specific Media, Entertainment Weekly, and others.