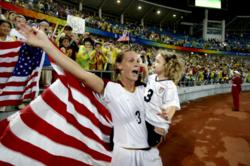 "I'm not going to let Lyme get me down. Mind over matter has always been easy for me."
Stamford, CT (PRWEB) August 23, 2012
"I'm not going to let Lyme get me down," says Rampone. "Mind over matter has always been easy for me."
Lyme Research Alliance (formerly Time for Lyme) announced today that 37-year old Christie Rampone, captain of the gold-medal winning U.S. Women's Soccer Team, has been named its "Person of the Month."
In a wide-ranging interview posted on the organization's website (lymeresearchalliance.org) Rampone, diagnosed with Lyme in 2010, tells LRA how she managed to stay at the top of her game at the London Olympics despite suffering from the disease. "Mind over matter has always been easy for me," she says.
Defender Rampone, mother to two daughters ages 6 and 2, says that "adrenaline" is her best medicine. She works hard at staying fit and healthy, but admits that when she's home and not competing she can "become irritable, sleepless and lacking in energy." At times, she says, she's had hallucinations and panic attacks.
Lyme disease, spread by the bite of an infected tick, can cause symptoms ranging from headache and muscle aches, to serious and long-term complications that affect the brain, joints, heart, nerves and muscles. Lyme may be identified after a tick bite by an expanding rash, but that doesn't always happen. Rampone says she doesn't know when she was bitten. She learned she had been infected only after she went to the doctor two years ago because she was feeling exhausted.
Among other points in Rampone's Q&A interview are:

She was concerned that Lyme could hinder her ability to be an active mother to her daughters and "eliminate" her career as an athlete.
She "had no idea" Lyme disease "could be so crippling."
She knows she's always pushing herself, but says it's her personality. "Right now, everything is good," she says. The U.S. Women's Soccer Team's Victory Tour starts September 1 in Rochester, NY.
In naming Rampone LRA's Person of the Month, LRA executive director Peter Wild said "Christie Rampone is a shining light to all of us in the Lyme disease community. Her ability to manage and transcend the physical constraints caused by her condition, are without parallel in my experience. To have qualified for the Womens' Olympic Soccer Team would have been merely exceptional; to go beyond that to captain the team that brought home Olympic gold puts her in the category of super-hero. Very few people living with Lyme disease will aspire to Christie's level of transcendence; but her achievements are an inspiration to all."
Lyme Research Alliance, Inc., formerly Time for Lyme, is a Connecticut-based 501(c)(3) non-profit organization whose mission is to fund cutting-edge research into Lyme and other tick-borne diseases. Lyme Research Alliance has raised over $5 million since its founding in 1998 to fund research at accredited institutions across the U.S., including the endowment of the Columbia University Medical Center's Lyme and Tick-borne Disease Research Center in New York City. On the Web at http://www.lymeresearchalliance.org