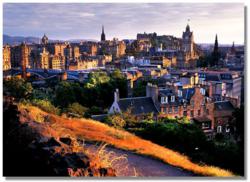 (PRWEB UK) 24 August 2012
In typical British fashion, the August bank holiday weekend is set to be a complete washout, with reported rain throughout the country. However, those still wanting to make the most of their time off can raise a smile by visiting the largely indoor Edinburgh Fringe festival – and stay at a local's place for a snippet of the price of a hotel.
The few last minute hotels which are still available this weekend are charging hundreds of pounds for a double room, whist spare rooms website Wimdu.co.uk has rooms available from just £50 - so those looking for some last-minute laughs can find an affordable place to stay in the city.
Guests can either stay in a local's spare room or rent an entire apartment, gaining insider tips about the festival from their experienced host. And with most of the comedy taking place in indoor venues, it's a perfect way to spend a rainy long weekend.
To find a place to stay for the Fringe, visit http://www.wimdu.co.uk/edinburgh
Cheap and central - Just a 20-minute walk to Edinburgh city centre, this private room is just £50 per night for 2 guests: https://www.wimdu.com/offers/7LQ11U4M
Cosy apartment for 2 - A whole one-bedroom flat for 2 people, just £75 per night: https://www.wimdu.co.uk/offers/C80NS2M1
Plenty of space for families - Guests can rent this entire apartment for 4 for just £100 per night: https://www.wimdu.co.uk/offers/B9ZF70J9
About Wimdu
Wimdu is a social accommodation community that brings together travellers and hosts from around the world to enable consumers worldwide to travel like a local.
Wimdu enables hosts to generate additional income on their spare rooms, while guests can search for a room and a rate that suits them. The site lists a range of over 50,000 properties internationally across over 100 countries with everything from boltholes in Berlin to English castles.
Wimdu was founded in 2011 by serial entrepreneurs Hinrich Dreiling and Arne Bleckwenn who wanted to harness social media to transform the way consumers are travelling worldwide. Wimdu's Managing Director in the UK, Karim Hardane manages a team of over 30 and lists over 3,000 properties nationwide