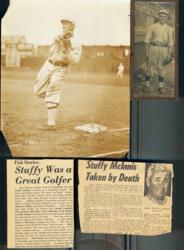 Beverly, Massachusetts (PRWEB) August 24, 2012
Stuffy McInnis was born in 1890 in Gloucester, Massachusetts, and died in 1960 in Ipswich, Massachusetts. He played for several Major League Baseball teams during a professional career that spanned 19 seasons. Making his MLB debut on April 12, 1909, Stuffy would have an impressive career that included four World Series titles with several teams. Overall, he held a .307 batting average, hit 20 home runs, and had 1,062 RBI in 2,128 games.
McInnis began his career as a short stop for the Philadelphia Athletics. In the 1911 season he was moved to first base, and thus became a member of Connie Mack's famous "$100,000 Infield." Playing alongside Eddie Collins at second base, Frank Baker at third base and Jack Barry at short stop, together the team won the World Series in 1911 and 1913.
Stuffy McInnis was traded to the Boston Red Sox and played with them from 1918 to 1921. In 644 plate appearances with the Red Sox, he struck out only nine times. In addition to being on the team when they won the infamous 1918 World Series, he also set an important record in his final season with the team: by 1921, Stuffy played 119 consecutive games at first base without an error. It was not until June 25, 2007 that Red Sox player Kevin Youkilis would break that 86 year old record.
After just three years in Boston, Stuffy was traded to the Cleveland Indians for the 1922 season. He was then traded to the Boston Braves from 1923 until 1924, and later, he was sent to the Pittsburgh Pirates from 1925 until 1926, where he won his fourth World Series title in 1925. Stuffy finished his career with the Philadelphia Phillies in 1927. McInnis continued to add to his impressive baseball resume by serving as the coach for the Harvard baseball team from 1949-1954.
Kaminski Auctions located on the North Shore of Boston for over 25 years, is thrilled to present the collection of this local baseball champion. Included in the lot are many significant memorabilia items: a 14K gold E. Howard pocket watch with a 10K watch fob and a gold filled pen knife, all inscribed with World Series logo 1910-1911-1913 (McInnis was on the Philadelphia Athletics roster when they won their 1910 title); a sterling silver presentation trophy by Gloucester friends, October 1910, made by Newbury Crafters; a 10K gold ring inscribed with name, Baseball Centennial 1839-1939, diamond chip; four photographs from New York Giants vs. Chicago White Sox game in Liverpool, England, photos of King George V and Edward Prince of Wales, circa 1914; and a collection of vintage programs, photographs and newspaper clippings as well as a passport for McInnis issued in 1914. The entire collection is valued at $3,000-$4,000.
Kaminski Auctions serves the New England antiques market as a full service auction house and appraisal service for fine art, antiques and estates. With two locations in Beverly, Massachusetts, including a new state of the art auction gallery located at 117 Elliott Street, and a historic 1850's barn and office facility at 564 Cabot Street, Kaminski Auctions hosts 16 auctions a year. In today's highly competitive market of fine art and antiques, Kaminski Auctions provides its customers with bicoastal services and marketing with west coast offices in Beverly Hills and San Diego, California.
Kaminski Auctions offers specialty departments in Asian Art and Antiques, Silver, Glass and Lamps, Couture and Vintage Clothing, Photography and Modern Design . We have highly trained and knowledgable appraisers on staff that will help you determine the true value of your antiques, or entire collections. Free Appraisal days are offered every Tuesday from 10:00am-4:00pm at our 564 Cabot Street location in Beverly, Massachusetts.