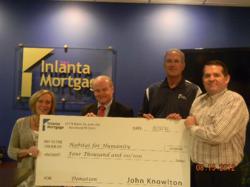 We are also extremely proud of what we were able to raise for Habitat for Humanity – which can be largely attributed to the generosity and kindness of our employees"
Milwaukee, Wisconsin (PRWEB) August 23, 2012
Inlanta Mortgage held its eighth annual sales conference Monday August 13 and Tuesday August 14 at the Harley Davidson Museum in Milwaukee, with over 100 employees attending.
This two day meeting brought both branch and corporate employees together to discuss and share best practices, department updates and corporate initiatives. The conference also hosted guest speaker Tammy Maddente, Vice President of First Weber Group, who gave a presentation on current real estate trends and changes and provided valuable insight into the industry directly from a Realtor perspective. The second day featured international speaker Matthew Ferrara who presented two sessions focusing on selling to the next generation of consumers and developing great growth strategies.
During the conference, Inlanta raffled off prizes donated by sponsors, with all proceeds benefitting Habitat for Humanity of Waukesha County. Altogether, Inlanta employees donated over $2800. Inlanta Mortgage also contributed to the organization for a combined donation totaling $4000. The money will go towards Habitat for Humanity of Waukesha County's largest fundraising event, a wine tasting and silent auction on October 14th.
"This year's conference was once again a huge success and the Harley Davidson Museum was a great venue," CEO John Knowlton said. "It's a great opportunity for our employees from around the country to get together and it gives them a chance to network and share what works in their respective markets. Having the meeting at the Harley Museum allows us to 'show off' Milwaukee to our guests from around the country. We are also extremely proud of what we were able to raise for Habitat for Humanity – which can be largely attributed to the generosity and kindness of our employees."
About Inlanta Mortgage
Headquartered in Brookfield, Wis., Inlanta Mortgage was established in 1993. The company has grown to 33 branches in 16 states and over 200 employees. Inlanta Mortgage provides its partner branches with Fannie Mae/Freddie Mac agency products, as well as a full suite of jumbo and portfolio programs. The company is delegated FHA/VA, FHA 203K and USDA approved.
Inlanta Mortgage was named a Top Workplace in 2012, has been listed on Mortgage Technology's Top 25 Tech Savvy Lenders List in both 2010 and 2011, and Milwaukee Business Journal's "Top 25 Largest Milwaukee-Area Mortgage Banking Companies." Inlanta Loan Officers have also been named as Milwaukee Magazine's "Top Mortgage Professionals. Inlanta has also received the Platinum Million Dollar USDA Lender Award and was a finalist for the 2010 Mortgage Technology Award.
The company's platform supports high producing professional partner offices with the latest technology and product menu focused on unsurpassed service and quality to both the consumers and employees. Inlanta takes pride in the highest level of honesty, integrity and ethics in all its business dealings. It is a member of numerous state Mortgage Bankers Associations and Lenders One, the largest cooperative of mortgage bankers in the nation. Inlanta is an accredited member of the Better Business Bureau with an A+ rating. For more information, please call Inlanta Mortgage at 262-439-4260, email info(at)inlanta.com.