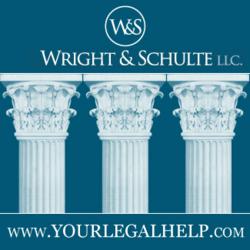 If you or someone you love were injured by a failing DePuy ASR metal-on-metal hip replacement device, please visit www.yourlegalhelp.com, or call toll-FREE 1-800-399-0795
Vandalia, Ohio (PRWEB) August 28, 2012
The national law firm of Wright & Schulte LLC and leading Ohio personal injury law firm, which represents the victims of defective medical devices, has filed a new lawsuit in U.S. District Court, Northern District of Ohio, on behalf of an Ohio man who has experienced constant pain and suffering, allegedly due to his DePuy ASR Hip Replacement. The Plaintiff, who received a DePuy ASR Hip Replacement device in his right hip in November 2007, alleges he will be forced to undergo a painful and risky revision surgery to have the device removed and replaced. The case joins some 6,000 others now pending in the DePuy Orthopaedics ASR Hip Implant Products Liability Litigation – MDL 2197, which is underway in the Northern District of Ohio (Case No. 1:12-dp-22749-DAK)
The DePuy ASR hip replacement implant, a metal-on-metal device, was recalled by Johnson & Johnson's DePuy Orthopaedics division in August 2010, after data indicated that more than 12 percent of the devices failed within five years of implantation. According to the lawsuit filed by Wright & Schulte LLC, the Plaintiff did not know that the injuries he suffered were a result of a defect in the ASR hip replacement implant until after the recall, and he came to learn of the DePuy ASR hip replacement recall. The complaint alleges that in addition to constant pain and suffering, the Plaintiff experienced loosening of his implant and a decrease in his quality of life. The lawsuit further alleges that the Plaintiff is now at risk of developing high levels of metal ions in his blood.
In the two years that have passed since DePuy Orthopaedics pulled its ASR hip implant products off the market, additional research has cast doubt on the safety of the entire class of metal-on-metal hip replacement devices. In February, the British Medical Journal warned that the high levels of metal ions that can be shed by metal-on-metal hip devices could put thousands of people at risk for serious long-term health problems. That same month, the U.K. Medicines and Healthcare Products Regulatory Agency (MHPRA) recommended that all patients who have received metal-on-metal hip implants undergo annual blood tests to screen for elevated levels of metal ions in their blood.
[mhra.gov.uk/NewsCentre/Pressreleases/CON143784]
[bmj.com/content/344/bmj.e1410]
In June, the U.S. Food & Drug Administration (FDA) revealed that there had been nearly 17,000 adverse event reports associated with metal-on-metal hip implants from 2000 to 2011. An FDA advisory panel has recommended that patients with metal-on-metal hip implants be regularly monitored via imaging tests and blood screening to ensure that the devices are not failing or shedding dangerous levels of metal ions. Most panelists agreed that there were few, if any, cases where they would recommend the use of metal-on-metal hip implants. [cbsnews.com/8301-504763_162-57463830-10391704/fda-panel-finds-little-use-for-metal-on-metal-hip-implants/]
Wright & Schulte LLC offers free lawsuit evaluations to victims of DePuy ASR hip implant complications. If you or someone you love were injured by a failing DePuy ASR metal-on-metal hip replacement device, please visit yourlegalhelp.com, or call toll-FREE 1-800-399-0795 to learn more about your options for legal recourse.
About Wright & Schulte LLC
Wright & Schulte LLC, a leading personal injury firm, is dedicated to the belief that America's legal system should work for the people. Every day, the attorneys of Wright & Schulte LLC stand up for the rights of people who have been injured or wronged, and fight tirelessly to ensure that even the world's most powerful corporations take responsibility for their actions. If you're looking for a law firm that will guarantee the aggressive and personal representation you deserve, please do not hesitate to contact Wright & Schulte LLC today. Free case evaluations are available through http://www.yourlegalhelp.com, or call 1-800-399-0795.
Contact:
Wright & Schulte LLC
812 East National Road
Vandalia, Ohio 45377
1-800-399-0795