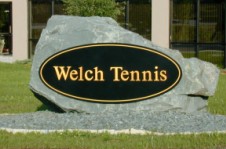 "It's not uncommon for us to see a group of folks from management and maintenance that are responsible for 300-500 courts in these seminars; that collective knowledge with the exchange of ideas is very valuable."
Sun City, Fla. (PRWEB) August 24, 2012
Welch Tennis Courts, Inc., the largest builder of clay tennis courts in the United States, has announced the Fall Clay Court Maintenance Seminar to be held on October 5th at the Club at Mediterra in Naples, Fla.
For the last 20 years, Welch Tennis Courts, Inc. has been providing informative, tennis court maintenance seminars. The Fall Clay Court Maintenance Seminar will focus on giving the Club Manager, Tennis Director, and Maintenance Personnel a better understanding of clay tennis court maintenance techniques, as well as insight on equipment and supplies that will help keep their tennis courts in the best shape possible, while spending the least amount of time and money.
The day will start out with a continental breakfast, and a lunch will be provided mid-day. There will be time spent with indoor information sessions, as well as on-court demonstrations—allowing an informal setting for the sharing and exchanging of ideas.
George Todd, Jr., President of Welch Tennis Courts, Inc., stated, "It's not uncommon for us to see a group of folks from management and maintenance that are responsible for 300-500 courts in these seminars; that collective knowledge with the exchange of ideas is very valuable."
Speakers will also include Bob McGuire, Welch Tennis Courts, Inc. Resurfacing Manager, and Lynn Miller, Welch Tennis Courts, Inc. Accessory Department Manager, discussing equipment choices and new, innovative products. James Halstead will be conducting on-court resurfacing demonstrations.
The seminar is full of valuable information for the cost of $159 per person ($125 for each additional person from the same facility), includes breaks and lunch. USPTA members can earn 3 credits for attending, and PTR members can earn MAP points.
To register for the Welch Tennis Court, Inc. Fall Clay Court Maintenance Seminar, visit the Welch Tennis Courts, Inc. Seminars page.