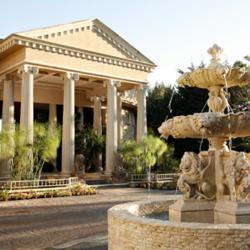 "Passages believes in a cure, and 11 years later it is still one of the few treatment brands that truly believes in a total healing from addiction."
- Pax Prentiss
Malibu, CA (PRWEB) August 24, 2012
The world famous Passages Malibu addiction rehab center celebrates 11 years of treating thousands of clients for drug and/or alcohol dependency this August, 2012. Founded by father and son team Chris and Pax Prentiss, Passages opened in 2001 and was one of the first substance abuse treatment centers to offer an alternative to the 12-step/AA model of addiction treatment and focus on healing the underlying issues causing addiction.
Pax Prentiss, a former heroin, alcohol and cocaine user, modeled the Passages program after the holistic treatment methods that ultimately worked for him after numerous failed attempts at AA and stints in 12-step treatment centers. He is now the CEO of Passages and will celebrate 12 years of his sobriety in September 2012.
Prentiss is pleased with Passages Malibu's transition from a small, progressive rehab center to one of the most recognized and widely accessible addiction treatment brands in the world. "When we first opened in 2001, Passages Malibu had a mere handful of clients located in one building. Today, the facility spans across 10 acres with 5 estates and a staff of over 127 addiction experts offering 22 different types of addiction therapy," says Prentiss. "We maintain an average census of 28 clients and have a wait-list many times during the year. It never ceases to amaze me how much we have been able to accomplish in such a short amount of time, and I know there is no limit to our continued growth."
Since its inception in 2001, Passages has achieved numerous milestones and has had to face and overcome hurdles that challenge many up-and-coming brands while growing rapidly in the process. Always the advocate of new innovations, ideas, and cutting-edge treatment methods, Passages is still regarded as the first predominant treatment center to offer a non-disease philosophy regarding what causes addiction (more from Wikipedia). We have never had nor are we going to waiver from our philosophy for one reason - our message rings true and our treatment methods work. Many people come to us after AA programs have not worked for them. What has allowed us so much success is the fact that we believe in our clients and the individual's power to overcome addiction permanently," says Prentiss. "Passages believes in a cure, and 11 years later it is still one of the few treatment brands that truly believes in a total healing from addiction."
Prentiss' long-term plans are to open other Passages treatment centers and to continue to offer drug and alcohol abusers various ways to access the Passages approach to addiction recovery. "We are a global brand. Although our roots are in Southern California, we do not limit ourselves - we have taken great efforts to ensure that our message reaches all areas of the country as well as abroad. As a result, our client base is one of the largest and most diverse, both internationally and socioeconomically," Prentiss explains. "One of the biggest misconceptions we still face after 11 years is that we are inaccessible to the average population. This is simply not true. Our Malibu center accepts some forms of insurance and is only one option offered by our treatment brand, the other is Passages Ventura."
After eight years of successfully treating people dependent on drugs and alcohol at Passages Malibu, its most luxurious treatment facility, the Prentiss's decided to open their second location, Passages Ventura, a more accessible center in the small beach city of Port Hueneme, California, on May 17, 2009. Most insurances are accepted at both facilities which helps reduce cost substantially and allows many patients to be admitted just by covering their co-pays. Furthermore Passages has also released numerous self-help and addiction treatment books, most notably their groundbreaking flagship title, The Alcoholism & Addiction Cure.
While reflecting upon the last 11 years, Prentiss proudly acknowledges that the Passages brand has truly come full circle. "Our philosophy and the foundation of our treatment program is the same as it was 11 years ago - lots of one-on-one, customized therapy, beautiful accommodations, and the same belief that addiction is not a disease. Our recipe for success is logical and straightforward and we will continue to hone this recipe and offer everything from psychotherapy to hypnotherapy to spiritual counseling and beyond to help people unearth, heal, and overcome their underlying issues that caused them to resort to substance abuse in the first place," explains Prentiss. "We believe in a cure and after 11 years of successfully treating people this way, we've proven that our way really does work. We will continue to treat addiction and hopefully grow for many more years to come."
Passages Malibu has been named the "Most Luxurious Place to Dry Out" by Forbes, and was recently named the "Number 1 Treatment Center in the World" by Healthcare Global, and has earned the coveted JCAHO (Joint Commission on Accreditation of Healthcare Organizations) accreditation, which has only been given to 6% of the nation's behavioral health treatment programs. Both Passages Malibu and Passages Ventura accept insurance.
At Passages Malibu - Addiction Ends Here™
About Passages Malibu & Passages Ventura:
Founded by Chris Prentiss and Pax Prentiss, Passages Malibu opened in 2001 with its second location, Passages Ventura, opening in 2009. The two drug and alcohol abuse treatment centers offer an alternative to the 12-step/AA model of addiction treatment by using a holistic approach and a program that focuses on the underlying issues of substance dependency, rather than suggesting that addiction is an incurable disease. Both Passages Malibu and Passages Ventura accept insurance and have earned the coveted JCAHO (Joint Commission on Accreditation of Healthcare Organizations) accreditation, which has only been given to 6% of the nation's behavioral health treatment programs. The co-founders are also authors of the acclaimed series of treatment books that include their groundbreaking flagship book, The Alcoholism & Addiction Cure. For general inquiries about treatment, contact: 866-233-1753
For more information on Passages Addiction Rehab Centers visit:
Passages YouTube Channel
Passages Facebook Fan Page
Passages Pinterest Boards
Passages Google Plus Page
Follow Passages on Twitter
For media inquiries, contact:
press(at)passagesmalibu(dot)com