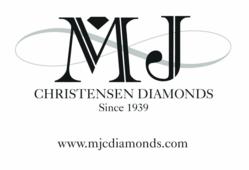 MJ Christensen cares deeply about the industry and beyond," says Dorothée Gizenga, executive director of the DDI. "We are very impressed with MJ Christensen's social responsibility programs.
Las Vegas, NV (PRWEB) August 24, 2012
MJ Christensen Diamonds, a leading retail jeweler in Las Vegas, is finalizing a marketing campaign that the jeweler hopes will be a model for other successful retailers. The campaign, titled "Ethical Affair," is designed to let customers know how their purchases help the socioeconomic development of diamond-producing countries.
"Our business model is weighted significantly toward social responsibility" says Jennifer Miller, director of marketing for MJ Christensen. "Over the past few years, we have raised over $100,000 for BeadforLife through the sale of recycled paper beads and shea butter body products created by the women of Uganda." BeadforLife is a non-profit organization that helps women who have been largely affected by Kony's army in war-torn Uganda. These women are living on less than $2 per day in extreme poverty and BeadforLife is helping them rebuild their lives by teaching them sustainable entrepreneurial skills. Cliff Miller, owner of MJ Christensen was recently appointed to BeadforLife's advisory board, due to his commitment to help with these efforts.
In an ongoing effort to educate the local community about the global impact of ethical diamond consumption, MJ Christensen has recently pledged partnerships with the Diamond Development Initiative and the Diamond Empowerment Fund. Both nonprofits serve to improve communities in which diamonds are a natural resource.
"The Diamond Empowerment Fund's mission to empower youth through education is a positive message that helps connect the diamond industry with customers. This is increasingly important as informed and inquisitive younger consumers want this assurance in the products they purchase, especially those which create memories to last a lifetime," says Nancy Orem Lyman, vice president and executive director of the Diamond Empowerment Fund. "MJ Christensen's efforts to connect this message with the Las Vegas community will help empower more youth to become the next generation of leaders in Africa."
"MJ Christensen cares deeply about the industry and beyond," says Dorothée Gizenga, executive director of the DDI. "We are very impressed with MJ Christensen's social responsibility programs, such as BeadforLife, and it is quite an honor for DDI to be selected by them for support."
"We welcome the opportunity to partner with such difference-makers," says Miller. "Through these partnerships we know that we are making a significant impact on a global basis. We believe that our upcoming marketing campaign will serve as an inspirational model that socially conscious retailers can use to increase awareness for these great organizations. "We may not be able to solve all of the world's complex issues, however we are optimistic that having a solution-oriented approach will help transform lives."
About MJ Christensen Diamonds
MJ Christensen, currently headquartered in Las Vegas, NV, was founded in 1939 on the principles of ethics, values and 'doing the right thing'. The company takes unparalleled pride in continuing to protect these principles as it provides the highest quality products and service to its clients.
About Diamond Development Initiative
DDI brings the jewelry and diamond industry, non-governmental organizations, and governments together in a common effort to ensure that diamonds are an engine for positive economic and social development in communities where they are sourced in Africa and South America. About DDI: The Diamond Development Initiative International (DDI International) is registered in the United States as a 501(c)(3) nonprofit charitable organization, in the District of Columbia. EIN/tax ID number: 51-0616171. DDI's executive office is located in Ottawa, Ontario, Canada.
About Diamond Empowerment Fund
Founded in 2007 by Russell Simmons and leaders in the diamond and jewelry industry, The Diamond Empowerment Fund™ (D.E.F.) is a non-profit international organization with the mission to support education initiatives in African nations where diamonds are a natural resource with the belief that sustainable development through education is essential to empower both individuals and society to reach their fullest potential. DEF's envisions a future for these countries to be strong, stable, economically prosperous and socially empowered.