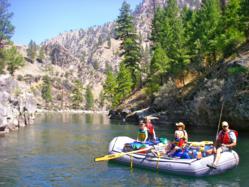 BOISE, Idaho (PRWEB) August 23, 2012
Idaho outfitters encourage recreationists to keep an open mind about planning outdoor outings or staying committed to an existing trip because it's still possible to go horseback riding, rafting and have a great experience, officials said. Labor Day weekend is right around the corner, and then hunting and steelhead trips kick in.
National media reports focusing on several large forest fires in Idaho are scaring some out-of-state and in-state customers, outfitting officials said. Outfitters recommend doing your homework and staying in touch with outfitting businesses and fire information to learn the latest information about fires and smoke. Wind and weather conditions are changing daily.
"Our trips are continuing on the Middle Fork of the Salmon River, and our guests are happy," said Bob Volpert, owner of Idaho River Journeys based in Salmon. "There are some terrific fishing opportunities on the Middle Fork in September, and some outfitters still have seats available."
"We are fully open for our trail rides, and there are no fires burning in the Sawtooths," adds Deb Bitton, co-owner of Mystic Saddle Ranch. "I was at our corrals in the upper Wood River Valley yesterday, and it was a glorious day with no smoke in the air. There's still a lot of good fishing to be had in the high mountain lakes."
"We have years with fires here in Idaho pretty routinely," says Jerry Hughes, owner of Hughes River Expeditions. "But I've seen much worse years than this. I've actually moved our Middle Fork trips to the Lower Salmon in years when the fires were bad, but this year, I've never even come close to doing that. The smoke can be bad in Stanley and Salmon, but once you get to Indian Creek on the 100-mile Middle Fork, the skies are pretty clear all the way to the Impassible Canyon."
Idaho outfitters encourage people considering float trips, pack trips or hunting trips to check for the latest information on fire information sites such as http://www.nifc.gov and http://www.inciweb.org. Travelers may also dial 511 or 1-888-432-7623, or visit http://511.idaho.gov for information on delays or road closures issued by the Idaho Dept. of Transportation. When calling, press 1 for road reports, and know the highway you intend to travel on.
Cooler weather with a little rain has slowed fire activity in some areas, according to the U.S. Forest Service. "Stay in touch with your best sources of information," advises Louise Stark, co-owner of White Cloud Outfitters. "Conditions are changing on a daily basis."
For more information about booking a guided adventure in Idaho, go to http://www.ioga.org. For Idaho visitor information, go to http://www.visitidaho.org.
Contact Steve Stuebner, 208-484-0295, sstuebner(at)cableone(dot)net