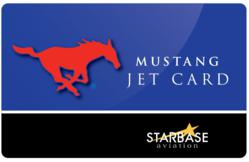 Dallas, TX (PRWEB) August 29, 2012
Starbase Aviation, a full service private aviation company, announced today it will renew its partnership with Southern Methodist University (SMU) to support the university's athletic department. Starbase Aviation established a successful relationship that provided SMU's Department of Athletics with private charter accommodations when they sponsored the university's teams and had a presence at multiple home games last year. This year, in addition to charter services, Starbase Aviation will also introduce the first ever Mustang Jet card which will give the SMU community access to special charter rates.
The Mustang Jet Card allows Starbase Aviation to extend its relationship beyond SMU's Department of Athletics to include SMU alumni, game day suite holders and season ticket holders. Mustang Jet card holders will be able to enjoy the perks of private aviation travel while receiving preferred rates and access to our dedicated Client Services Team, available 24 hours, 7 days a week, which will enable cardholders to make travel arrangements with complete ease.
David Henry, Senior Vice President of Starbase Aviation, said, "We are proud of the relationship we've built with SMU. As an athletic team sponsor, we not only want to show our support to the individual athletic teams but we also want to display our appreciation to the SMU community.
The Mustang Jet card will provide rewards to the SMU network of students, alumni, faculty and supporters who continue to enrich school spirit by encouraging the players and providing the university with a sense of accomplishment year after year.
Starbase Aviation believes the extension of the Mustang Jet Card program will become an integral part of the partnership with SMU when cardholders discover the comfort in using just one point of contact for all their private travel needs.
About SMU
A nationally ranked private university with seven degree-granting schools, SMU is a distinguished center for teaching and research located in the heart of Dallas. SMU's 11,000 students benefit from small classes, leadership opportunities, international study and innovative programs. The University prepares students for leadership in their professions and in their communities. The location in the heart of Dallas – a thriving center of commerce and culture – offers students challenging experiences on campus and beyond. Relationships with the Dallas region provide a platform for launching careers throughout the world. For more information visit: http://www.smu.edu/AboutSMU.
About Starbase Aviation
Starbase Aviation is one of the nation's leading Private Jet Service providers with their Houston offices at Ellington Airport, and other offices around the country including Dallas, Austin, Los Angeles and Singapore. The company offers Private Jet Charter, Private Jet Membership, Aircraft Management and Aircraft Sales to its worldwide customer base. Starbase has been providing leadership and value to private jet travelers for more than a decade, and is the recipient of the prestigious Platinum Rating by ARGUS, an accreditation earned by only 10% of Jet Charter operators. For more information on pricing, contact Sales(at)Starbasejet(dot)com or visit our website at http://www.Starbasejet.com.