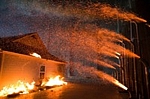 Taking many low cost or free steps before fire threatens will also give you peace of mind if you have to evacuate quickly under instructions from local emergency officials.
(PRWEB) August 23, 2012
As wildfires continue to burn and threaten communities in many regions around the country, the Insurance Institute for Business & Home Safety (IBHS) is providing free resources to help home and business owners reduce their risk of damage.
"Windborne embers can travel more than a mile from the edge of a fire," notes Julie Rochman, IBHS president and CEO. "While property owners can't control the often fast-changing path of a wildfire, they can help control how a wildfire will impact their property by looking for vulnerabilities and taking action now to help improve their property's 'self defense' system. Taking many low cost or free steps before fire threatens will also give you peace of mind if you have to evacuate quickly under instructions from local emergency officials."
Although they are small and may seem relatively harmless compared to massive walls of flames that form the perimeter of a wildfire, embers are particularly dangerous to homes and businesses. "This is because the embers not only land on combustible material on or near a building, but they also find their way inside buildings through vents, soffits, or other small openings, actually burning a structure from the inside out," explained Rochman.
IBHS' first-of-its-kind, highly realistic wildfire ember storm test conducted at the IBHS Research Center last year compellingly demonstrated how easily embers can penetrate a home. One of the most effective ways to reduce the chance of ember ignition inside a home is to prepare roof vent covers. IBHS offers the following guidance to do this effectively:
1. Measure vent sizes.
2. Prepare covers using ½ inch plywood or a thin metal plate.
3. Pre-install hardware for easier cover placement when a wildfire threatens.
4. Include cover installation as part of a wildfire pre-evacuation preparedness plan.
5. Remove covers upon returning to the house.
Another very effective way to reduce wildfire risk is to create defensible space zones around buildings. IBHS recommends creating three protection zones extending from the building to the property line: 0-5 ft.; 5 ft.-30 ft.; and 30 ft.-100 ft. The area within 30 ft. of your home or business is especially important, with the area within 5 ft. of any building being the most critical.
"By creating a noncombustible zone next to your home or business you will remove most things that could be ignited by wind-blown embers during a wildfire," Rochman said. "Another quick tip would be to use rock mulch instead of bark, pine needles or other combustible products."
IBHS offers region-specific wildfire retrofit guides for home and business owners which address unique building styles and characteristics found in the respective region. The guides also include information about how to create a wildfire-resistant landscape. IBHS also offers wildfire preparedness brochures focusing on commercial, residential, and farm and ranch properties.
IBHS is a leading national expert on preparing for, and repairing and rebuilding structures after a catastrophe to make them more disaster-resistant. To arrange an interview with IBHS, contact Joseph King at 813-675-1045/813-442-2845, jking(at)ibhs(dot)org or via direct message on Twitter @jsalking.
Visit DisasterSafety.org for more information about how to make your buildings more resistant to a variety of disasters, big and small. Follow IBHS on Twitter at @DisasterSafety and on Facebook.
# # #
About the IBHS
IBHS is an independent, nonprofit, scientific research and communications organization supported by the property insurance industry. The organization works to reduce the social and economic effects of natural disasters and other risks on residential and commercial property by conducting building science research and advocating improved construction, maintenance and preparedness practices.