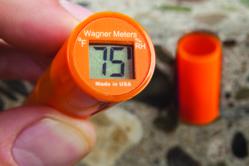 Wagner invests significantly to bring cutting edge moisture measurement systems to market.
Rogue River, OR (PRWEB) August 28, 2012
"This award validates what we at Wagner know," said Jason Spangler, Wagner Rapid RH® product specialist. "Wagner has invested significantly to bring a cutting edge measurement system to the market. We are honored to be recognized."
The Rapid RH® 4.0 EX concrete test measures internal concrete humidity. The Rapid RH® tests equilibrate so quickly and accurately that a reading taken one hour after installation will be within 3% of its final reading. In addition to providing quick and accurate readings, the Rapid RH® is also affordable and easy to use. NOTE: Always refer to ASTM F2170 for specific installation requirements.
About FCI:
Floor Covering Installer (FCI) is the only trade publication entirely dedicated to the complete spectrum of flooring installation. FCI serves flooring installers, installation managers, contractors and the distributor network, providing focused, installation-related information on all types of flooring including carpet, ceramic and stone, hardwood, resilient and laminate, as well as the problems that may arise (such as moisture-related issues) and how to solve them.
About Wagner Meters:
Wagner Meters creates solutions in the field of moisture measurement technology to provide and enhance quality products. As a world leader in moisture measurement for nearly 50 years, Wagner Meters uses what works. From Relative Humidity testing (http://www.wagnermeters.com/concretemoisture.php) to designing the first solid-state, non-contact, in-line moisture detector (http://www.wagnermeters.com/largelumber.php), Wagner Meters sets the standard for reliability and accuracy in moisture measurement.