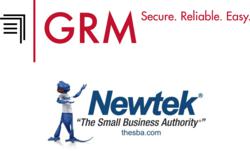 "It's a win-win for both companies." - Adam Altman, Newtek's Regional Vice President.
Jersey City, NJ (PRWEB) August 24, 2012
GRM, a full cycle records and information management leader, announced today a capabilities-sharing partnership with Newtek Business Services. The agreement aims to both meet the growing needs of existing GRM and Newtek clients and accelerate the pursuit of new joint business opportunities. Newtek, also known as The Small Business Authority, offers services and solutions around supply chain and ecommerce operations for over 100,000 customers. The company is a leader in the selling of commercial business insurance and also America's largest non-banking commercial lender.
"We are really excited about the potential of this relationship," said Gene Stewart, GRM Director of Alliances and Channels. "On a national basis, it expands the value-added capabilities of both companies. For GRM, we expect this alliance to drive core services and open up digital opportunities that will benefit all of our locations."
The partnership strategy calls for GRM to make available its comprehensive suite of document and records management services to Newtek clients. At the same time, Newtek's e-payment, payroll management and web services will be introduced to GRM and thousands of GRM customers in major markets across the U.S. "It's a win-win for both companies," explained Adam Altman, Newtek's Regional Vice President. "Not only can we better serve our respective clienteles, but as partners we're able to approach potential new business with a formidable edge in overall capability." Mr. Altman is already working with GRM sales teams to identify promising joint opportunities.
About GRM
GRM Document Management is a leading provider of lifecycle records and information management solutions. The company continues to demonstrate technological leadership by bringing proprietary innovation and new levels of cost efficiency to document storage, data protection, digital/electronic document management and certified destruction. Fully integrated products and services include: eAccess remote inventory control, the Cloud-based Online Record Center, business process workflow automation, a blended paper to digital solution, GRMpedia, a retention regulatory research tool and the Solutions Group, which provides customized, enterprise-wide Retention, Compliance and Governance expertise. GRM's full service capabilities are available in major markets throughout the U.S., including New York/New Jersey, Atlanta, Baltimore, Boston, Chicago, Houston, Los Angeles, Miami, Philadelphia, San Francisco, and Washington, D.C. GRM is also currently the largest document storage/records management company in China with a presence in 6 cities. For more information, visit the GRM web site at http://www.grmdocumentmanagement.com
About Newtek
Newtek Business Services, Inc., also known as The Small Business Authority, is a premier provider of quality business services and financial products for the small to medium-sized business market. The company's mission is to become the premier provider of quality business and financial services to small- and medium-sized businesses throughout the U.S. Clients are provided with access to financial, management and technological resources that enable them to better grow and compete in today's marketplace. Newtek's products and services include electronic payment processing, digital bookkeeping, Accounts Receivable Financing, Web Design and Development, and payroll management processing. For more information about Newtek, go to http://www.newtekbusinessservices.com