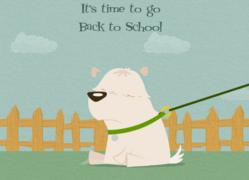 Cleveland, OH (PRWEB) August 23, 2012
School bells are getting ready to ring, and there's no better time to send back-to-school eCards. Wish kids good luck with the new school year ahead, or congratulate parents for surviving another summer break. eCards from Bluemountain.com, an American Greetings Corporation (NYSE: AM) online company, allow senders to personalize their back-to-school message for any recipient – eager students, relieved moms, and favorite teachers, to name a few.
A sure crowd pleaser for kids of all ages – and one they can easily identify with – is the "What a Drag!" eCard, featuring a reluctant, animated pup being dragged off to school with a woeful blues tune playing in the background. The text reads: "It's time to go back to school. What a drag!" Another, more inspirational choice is a fun and simple digital postcard that reads, "Hope it's your Best Year Yet!" – Perfect for posting on Facebook!
Sharing back-to-school eCards from BlueMountain.com is simple and convenient. Send through traditional email or post on the recipient's Facebook timeline. Just click the appropriate button on the selected eCard's webpage and follow the instructions.
To check out the selection of back-to-school eCards or a wide variety of other eCards perfect for any occasion, visit http://www.bluemountain.com.
About American Greetings Corporation
For more than 100 years, American Greetings Corporation (NYSE: AM) has been a creator and manufacturer of innovative social expression products that assist consumers in enhancing their relationships to create happiness, laughter and love. The Company's major greeting card lines are American Greetings, Carlton Cards, Gibson, Recycled Paper Greetings and Papyrus, and other paper product offerings include DesignWare party goods and American Greetings and Plus Mark gift-wrap and boxed cards. American Greetings also has one of the largest collections of greetings on the Web, including greeting cards available at Cardstore.com and electronic greeting cards available at AmericanGreetings.com. In addition to its product lines, American Greetings also creates and licenses popular character brands through the American Greetings Properties group. Headquartered in Cleveland, Ohio, American Greetings generates annual revenue of approximately $1.7 billion, and its products can be found in retail outlets worldwide. For more information on the Company, visit http://corporate.americangreetings.com