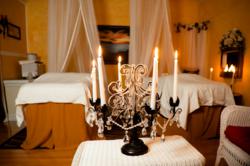 This is a great opportunity to show the community what sets Hands On HealthCare apart from other day spas
Commack, Suffolk County, Long Island, NY (PRWEB) August 25, 2012
Jimmy Newson of JLN Media will be shooting a video on location featuring couples massage and the private Couple's Suite at Hands On. "This is a great opportunity to show the community what sets Hands On HealthCare apart from other day spas" says Marla Kaplan-Pelle, Owner of Hands On. The video will spotlight the beautiful private couples suite with it's romantic decor and lighting.
Couples Massage offers many benefits, most obvious being the quality time spent together. Today's men and women work hard; that means when it comes time for some pampering they want the very best. Whether it is with a significant other, a BFF, a mom or a friend, it's a great choice to spend quality, healing, healthy time together. It inspires closeness and can rekindle the magic bonding of love, or remind eachother of the joy this kind of experience can bring.
Couples massage also allows a person to be introduced to massage for the first time in a safe and comfortable environment. Knowing they have someone else close by, receiving the same services, makes them feel more comfortable in new surroundings. Anytime is a perfect time for a couples massage. Any day can be the perfect day to strengthen the bonds with a person that's loved, especially anniversaries, birthdays and celebrations.
Hands On specializes in offering relaxing, therapeutic couple's massage in a wonderful, tranquil atmosphere.Chocolates, champagne, and custom packages are very popular. Hands On HealthCare Massage Therapy and Wellness Day Spa offers a full Couples Spa Date Menu.
Hands On HealthCare Massage Therapy and Wellness Day Spa has been serving the Commack Community since 2000. The company is a recognized leader in Advanced Medical Massage in Suffolk County, Long Island. specializing in pain, injury and disease. Modalities include Pre-Natal and Post-Natal Massage, Sports Massage, Trigger Point Therapy, Myofascial Release, Manual Lymph Drainage and much more. In addition, we offer spa treatments that include facials, skincare and signature body treatments. Hands On has an extensive Couples Spa Date Menu and Spa Party packages available for both on and off-site. Mobile services include bringing the day spa to your doorstep at home, venue or corporate function. Common events include Bachelorette Parties, Showers, Birthdays, Bar and Bat Mitzvahs, Sweet 16 Corporate Events and functions. Hands On HealthCare Massage Therapy's Licensed Massage Therapists and Estheticians provide clients with the ultimate experience in attention, service and care.
Hands On HealthCare Massage Therapy and Wellness Day Spa0
Marla Kaplan-Pelle, Licenced Massage Therapist, Certified Lymphatic Therapist, Director
208 Commack Road, Commack, NY 11725
631.462.4263